Now that we have all come to terms with the fact that the World Cup is never going to be played in England ever again, mainly due to our lack of understanding of bribes and backhanders, we now look forward to the World Cup being played in only the most corrupt of countries such as Brazil, Russia and Qatar. This had led to controversy surrounding the FIFA bidding process especially surrounding the announcement that the 2022 World Cup will be played in Qatar.
Qatar is a country not exactly known for it's love of football or being football fan friendly, don't forget the country is under Sharia law so getting a beer and a bacon butty at the ground may prove tres difficult. One other factor that has been overlooked, with the help of some greasy wheeling and dealing, is when the tournament traditionally takes place in June and July the temperature in Qatar can reach anything up to a stroke inducing 50c.
Next: Amateur Footballer Schools The World's Best Players
Also, after seeing 1 million people take to the streets of Rio recently to protest their government spending so much on next years World Cup, you would think that Qatar may be regretting their decision to invest in bringing a tournament to the Qatari citizens and possibly considering cutting a few corners?
Wrong.
Qatar have announced that they plan to spend $200 billion (yes billion, with a B) on the 2022 World Cup. Considering that the oil rich state's population does not even reach 2 million this equals to approximately $1,500 per person. If you compare this to the bargain that was the London Olympics last year which cost around $13.5b you might wonder what they are spending the money on.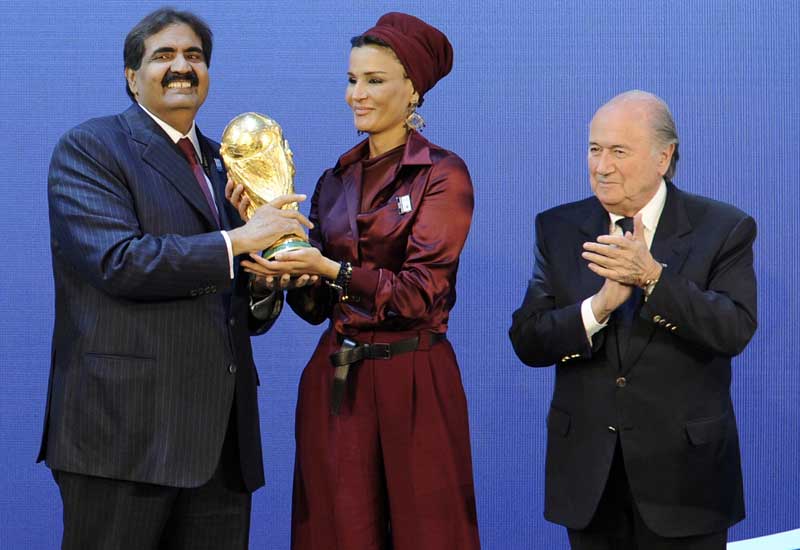 With $140b being spent on infrastructure including roads, a metro system (hopefully better than Manchester's) and a new airport this still leaves $60 billion change. With our own Wembley stadium costing approx $1.1b, the $60b would buy around 50 Wembleys, a couple of Emirates Stadium and handful of Etihad Stadiums.
Next: Brazilian Football Fans Decapitate Referee After He Stabs Player
One of the things they plan to spend the $60b pocket money on is solar-powered cooling technology to lower the temperature in the stadiums to give our pampered superstars the optimum atmosphere in which to play the beautiful game. This gets FIFA off the hook after coming up with various inventive and 'thinking outside of the box' ideas to avoid the tournament being played in a football furnace, including splitting 90-minute games into 3 thirds and moving the tournament to the winter months.
With all the obstacles put in its way, the Qatar 2022 World Cup is set to be either the greatest FIFA tournament to date and a glimpse into the future of world football or a huge balls up and a further embarrassment to Sepp Blatter, his bunch of corporate life sucking dinosaurs and the international 'brand' of football FIFA is trying to manufacture.
Check This Out: New Patrik Jakubik Skills Video
One thing is for sure, its a far cry from playing sunday league against the local hungover nutcase in defence on a boggy pitch with the opposition team manager moonlighting as a linesman, so have a think about that the next time you are sat in the away end at Stoke City on a Wednesday night in December clutching your Bovril, dreaming of air conditioned stadiums and the future England captain lifting the Jules Rimet amongst sand dunes and camels, I did say dreaming right?