Prince Andrew may have thought that the Prince Harry/Meghan Markle drama had helped everyone forget about his dodgy links with billionaire paedophile Jeffrey Epstein, but unfortunately for him that isn't the case.
Featured Image VIA
Despite the fact he was happy to be interviewed about the situation by the BBC back in November (and looked really stupid in the process), he's apparently been completely uncooperative with the FBI who have been trying to interview him. 
According to The Guardian, top prosecutor for the southern district of New York, Geoffrey Berman, said Monday that there had been 'zero cooperation' from the Duke of York.
He made the announcement outside Jeffrey Epstein's Manhattan mansion, which Prince Andrew suspiciously spent a few days in after his buddy was convicted of sex crimes.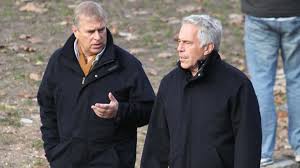 Prince Andrew was forced to step back from his royal duties following the revelations, and worse still – the Queen cancelled his 60th birthday party.
The weirdest part is that during his BBC interview, Prince Andrew said he would gladly cooperate with FBI investigators, but now that push has come to shove he's not interested. Surely he's had plenty of time to work on his alibis and excuses since all the allegations came to light? Or is the reason he doesn't want to be interviewed by the FBI because he knows they'll have him dead to rights in no time?
Either way, it's even more incriminating if he just hides away and refuses to be interviewed, especially after initially offering to help the investigation. No doubt he's come up with something more plausible than his 'no sweating' theory, right?