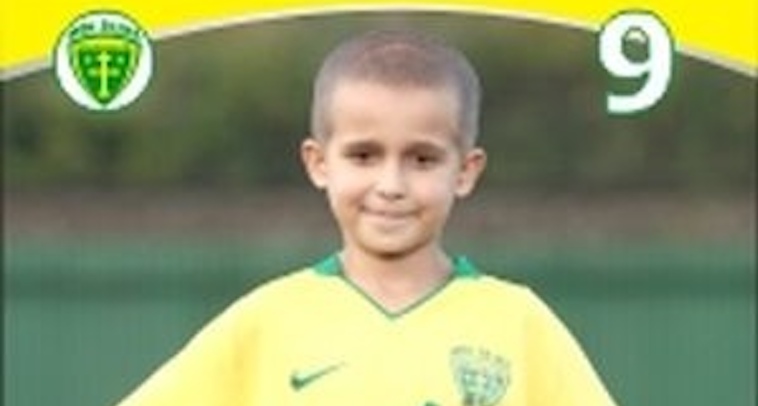 So yeah we've featured a couple of videos of the awesome 9 year old Patrik Jakubik here on Sick Chirpse in the past month or so. The second video we featured was actually prompted by an email from Patrik's father, so I thought why not hit him up for an interview? I felt kind of weird interviewing a 9 year old but whatever, this is Sick Chirpse we do what we want you know.
Despite the fact that Patrik is 9 years old and Slovakian he gives some pretty intelligent answers and actually sounds way older than 9 years old, kinda like the way he plays football. If someone interviewed me when I was 9 years old I would probably just be talking about video games and action figures and probably not even really be able to say a sentence properly. So yeah, it's almost as impressive as his football skills.
Check out the interview below:
– Were you naturally really good at football the first time you kicked a ball, or have you had to work to develop into a 9 year old phenomenon ?
– I tried to play football for the first time when I was six and half. I played with my father at our football field. I did quite well with the ball so I started to play football more often.
– When did you first start training and playing football ?
– I started my regular training at MSK Kysucke Nove Mesto /a local club in my city / when I was seven.
– Did you fall in love with the game immediately ?
–  I might have started playing football a bit late, but immediately I liked the game very much. Today, it has been nearly three years since my beginning.
– Who is your favourite footballer ?
– Lionel Messi and Wayne Rooney.
– What is your favourite league to watch ?
– Premier League – because in the Premier League every game means 90 minutes of full performance, every ball is always worth fighting for.
– Which league do you dream of playing in and why ?
– Premier League and La Liga.
– Which team do you dream of playing for and why ?
– Manchester United, because they play nice and fast football.
– From the clips I´ve seen of you you seem to dominate most games you play in, do you want to move up an age group and play against people who might prove to be more of a challenge ?
– Today, I play for MSK Zilina U10- team.We play against quite good teams, for example Sparta and Slavia Prag, Slovan Bratislava, Hamburger SV, Schalke 04, Vfl Bochum and others. I have already played a few games for an older team / MSK Zilina U11 /. It is always upon my coach to decide, for which team I am going to play the next game.
– What aspects of your game would you say are the strongest ?
– Ball control, vision in the game and passes.
– What aspects of your game do you need to improve ?
– movement – I mean using my body in duels / contacts with an opponent / since I am a bit shorter it is pretty challenging / , shooting.
– When do you hope to break into the first team at MSK Zilina ?
– I would like to play for the MSK Zilina first team once, but that is still far away. Today, there are four players in the first team who are still members of the Academy U17 team.
– Do you think your future lies at MSK Zilina or do you see yourself moving away from that league in the pursuit of success ?
– The level of the Slovak premier league is not very  high today. Hence, if I had a chance to play a better league in another country, I would surely use it as a way to improve in my play. but that is still a distance future since I am only 9 years old. I have a lot of training and playing ahead to make it.
– Describe the best goal you´ve ever scored ?
– My best goal / football experience – It was a game against FK Cadca. I was late and came on the field during the game 5 minutes before the half-time. During those 5 minutes I scored three times and the half-time score was 3 – 0 for our team.
– What´s your favourite football skill to beat your man ?
– I do not have a favourite football skill or favourite special move. When I get  the ball I always try to do things quickly.
– Have you won any awards either individually or collectively – at youth level yet ?
– I have played football for nearly three years. This is my second year in the MSK Zilina. Untill now, we have only played at tournaments / no regular league / One season 15 – 20 tournaments my team played.
My individual awards :
season 2011 / 12 – Best player of tournament – 2x  / twice /
season 2012 / 13 – Best player of tournament – 6x / six times /
Awards Sport talent city Kysucke Nove Mesto for year 2012
The tournaments have taken place in Slovakia and Czech Republik – there are mostly teams from the mentioned countries, sometimes also teams from Germany, Poland and Hungary.
– Do you think you have what it takes to make it as a professional footballer ?
– I still have to practice and play very much to become a real football player. Many people say that I am a talented player, but I can judge that myself.
my web : www.patrikjakubik.com
☛ More Interviews:
Sick Chirpse Meets Waze And Odyssey