Like most people, I like a good old-fashioned swear. It clears the air and, if you ask me, it eases any tensions and duress you might be under. Of course, you can't go firing them off willy-nilly, people will get upset and the words themselves will lose their venom. Swear words are a true wonder of human invention and they are often overlooked. It's time to redress that balance.
According to Wikipedia:
Analyses of recorded conversations reveal that roughly 80—90 spoken words each day — 0.5% to 0.7% of all words — are swear words, with usage varying from 0% to 3.4%.
So swear words are far more prevalent than some members of polite society might like to think. It also seems that swearing has a special place in the human brain too. Neurologist Antonio Damasio noted that even with patients where the language centres have been damaged, they were still able to swear like engineers.
There are plenty of rumours and old wives' tales about the origin of swear words, so I thought I'd have a dig around. I wanted to find out where the big three in the swear dictionary originally came from.
Let's start with "fuck" shall we?
FUCK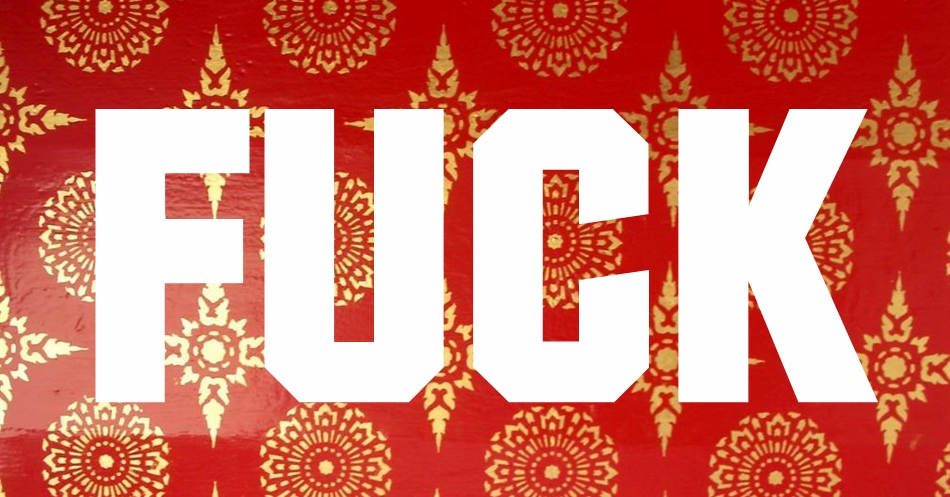 You might have heard that this mighty swear word comes from F-U-C-K standing for "fornication under the consent of the king". The story goes that if you wanted to get sexy with your wife you had to ask the King's permission and then hang a sign on your door that read "F-U-C-K".
Well, that's bollocks I'm afraid. That particular phrase and another – "for unlawful carnal knowledge" do appear in court documents but it's not until a lot later. Just FYI words in English are very rarely derived from acronyms, especially before the 19th century. So if someone tries to convince you with a similar tale, tell them to fuck off.
It seems that our old friend "fuck" came from the Norwegian word fokka and the Swedish focka, both meaning "to copulate".
The first appearances of the word (although they probably meant something different) come in a couple of books written near Sherwood in 1287. Both books contain references to a kestrel called Windfucker. LOL.
The first entry for something fuck-like in the English dictionary appears in 1503 — fukkit; and the earliest appearance of fuck's modern spelling appears around 1535 in a poem by Sir David Lyndesay:
Bischops … may fuck thair fill and be vnmaryit
Whatever that means. Some earlier uses of the word "fuck" actually meant "to strike". The more common word for sex at the time when Middle English was spoken was swive, from which we now get the enchanting phrase "go swivel".
So how about shit?…
SHIT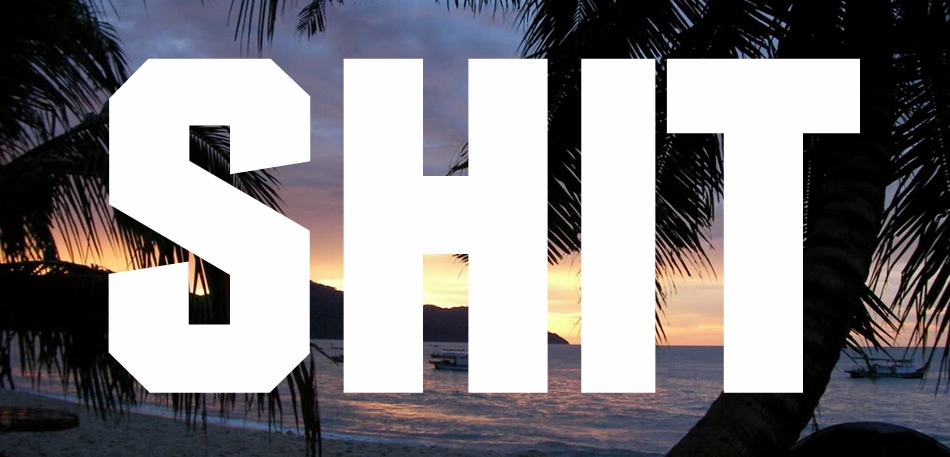 One story about the origin of "shit" has been doing the rounds for quite a while. The story goes that when crates of manure were stored below decks on a ship they would get wet, begin to ferment and let off methane. If someone went down below with a gas lamp, there would be an almighty explosion. For this reason they would stick a sign on the manure cargo that read "S-H-I-T" — ship high in transit. This way the boxes would get stored on deck and the methane wouldn't build up below.
It's a nice story but it's not true I'm afraid. "Shit" predates European shit trafficking.
With "shit" we have two potential origins — a noun and a verb. For example – are you shitting (v), you shit (n).
The Old English word scitte means purging/diarrhea. The action of shitting, though, has taken a wider path. It seems to have come from an older shared language because many Germanic languages have a similar word. Icelandic – skítur, Norwegian – skitt, Dutch – schijten and German – scheissen.
Importantly, John Cleese was the first person to say "shit" on TV in the late 1960's.
CUNT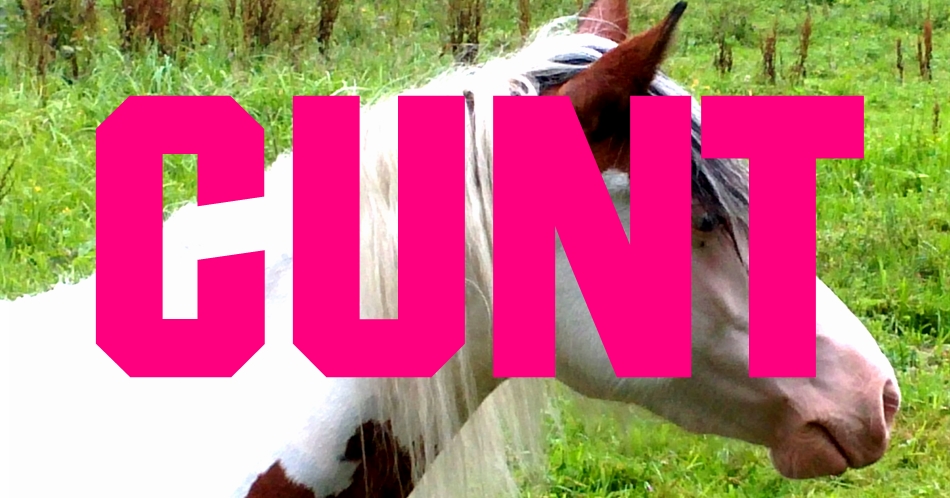 As I write this, the most offensive non-racist word in the English dictionary is probably "cunt". Like fuck and shit, cunt comes from way, way back across Scandinavian and Germanic languages. The best bet at the moment is that it comes from the Old Norse word – kunta.
Some linguists connect "cunt" with the Latin word cunnus, meaning "vulva", but according to etymologists this is unlikely. While we're with the Latin vibe, did you know that "vagina" comes from the Latin for "sword sheath"? I didn't. So that means that the word "vagina" is more sexist than the word "cunt". So, that's food for thought.
The first written use of the word in English with its modern meaning comes from a Middle English manuscript called Proverbs of Hendyng written at some point before 1325:
Ȝeue þi cunte to cunnig and craue affetir wedding.

(Give your cunt wisely and make [your] demands after the wedding.)
However, most of "cunt's" earliest usages appeared in place names or personal names, for instance, the unfortunate Bele Wydecunthe who was hanging around in the 1320's; or John Fillecunt from the 1240's.
Over the years there have been no less than 20 known streets called Gropecuntlane, all of which were, guess what?… red light districts. Makes sense.
So there's a brief run down for three of the filthier words in the English language. Whilst writing I realised there haven't been any new swear words added to the lexicon for a good long while. So I reckon we should bring in a new one.
I want a new swear word without sexist or racist overtones and one that doesn't use any existing words, for instance "flange-pocket" and "minge-pole" wouldn't count. It also can't have a secondary meaning; basically, I want a brand new word.
So, how about "jellip"? It doesn't seem to mean anything else at the moment, could that work? From now on "jellip" means genitalia in general. Examples:
Look at the jellip on that horse… jellip off you pervert… you jelliping idiot.
OK, OK that's perhaps a bit (a lot) shite. Your turn. Answers to @sickchirpse and if you're a fan of the hashtag use #newswearword.