Nintendo games, Karaoke machines and dildos. What more could you possibly want from a hotel room – apart from maybe a free mini bar and complimentary custard creams.
Japans Love Hotels are graced by over 2.5 million people a day. That's over 4 times the population of Manchester getting kinky in neon-lit shag pads every single day. Each room within the 30,000 hotels is specifically designed to fulfil a range of sexual desires. From human cages to a Batman cave. It's like a slightly creepy adult playground where bondage and Hello Kitty go hand in hand.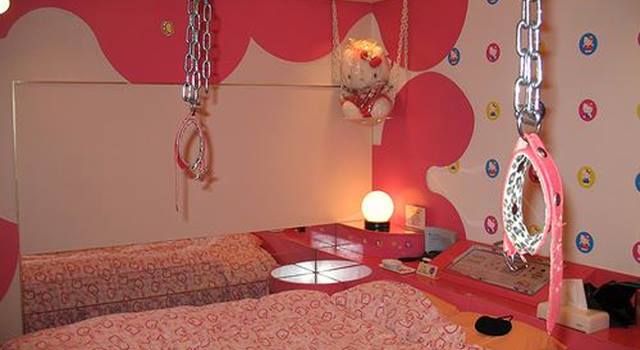 Room service is available with a menu that includes dominatrix straight to your bedroom door. It makes the red light district look like Disneyland.
In a culture where sexuality is somewhat repressed a pervy counter culture has thrived behind the closed doors of the Love Hotels. Two film makers have gone behind the scenes to bring us a documentary exploring these mysterious erotic spaces. The short film, simply entitled "Love Hotel", explores the relationships of customers and how they use sex to escape the loneliness and dissatisfaction of their everyday lives. Pretty deep stuff – almost as deep as these real life Japanese sex dolls.