Novelty burgers and other food items seem to feature on Sick Chirpse every other week now – who can forget the Fifty Shades Of Bacon Burger, the Yorkshire Pudding Burger or the Pizzaburger – but this burger concoction may finally have taken it too far.
It's called the 'Nelson's Column Burger' and is 10,500 calories and £30's worth of pure carnage. I mean just take a look at it – it's over a foot tall for Christ's sake: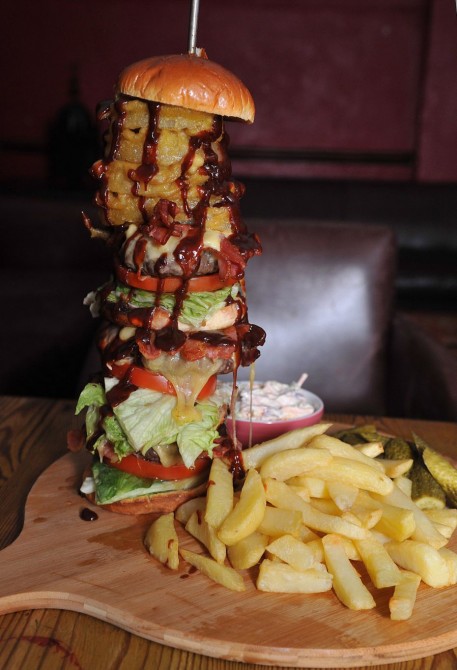 Image VIA
Here's what you're actually dealing with, alongside a handy little diagram to help you:
–  Three 8oz beef burgers
–  Five super-sized onion rings
–  Lashings of BBQ sauce
–  Twelve rashers of streaky bacon
–  Six slices of mature cheddar
–  Two brioche buns smothered in home-made mayonnaise
–  One iceberg lettuce
– One giant beef tomato
– A pound of chips
– 500g of coleslaw
– Four gherkins
Image VIA 
It's available at the Lord Nelson pub in Brighton if you fancy taking it on. I really think they've gone too far this time though because there's no way that this burger would even be fun to eat – it would just be a giant mess and would probably go all over your table and the floor, let alone the trendy wooden serving tray.