Napoleon Dynamite creators Jared and Jerusha Hess have gathered the stars of bespoke 2004 cult movie classic to bring you more Napoleon Dynamite – in animation! Now anything goes, and there are no limits. That's the beauty of the cartoon.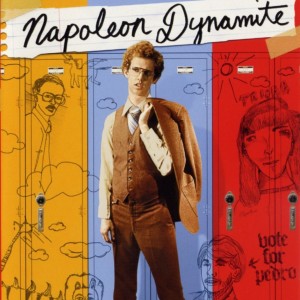 Originally aired on the Fox network, the first episode landed here on E4 at 10.30pm on Tuesday 20th March. The recreation of the original cast in 2D seems to make more sense, and watching it you would be forgiven for assuming that the cartoon came first. Isn't it usually the other way around?
The characters are so bizarre that the movie had instant cartoon potential. Fortunately the Hess brothers thought so too and made the transition, developing yet preserving the essence of the motion picture. Napoleon Dynamite fans won't be disappointed! Check these out.
[yframe url='http://www.youtube.com/watch?v=oLS5kK5QSAY&feature=relmfu']
[yframe url='http://www.youtube.com/watch?v=-aoPEeIAnSw&feature=relmfu']
The concept in cartoon form comes into its own, and the original cast ensure it doesn't lose any of its authenticity in 2D. Like I said – they make more sense as animations. Paradoxically, they're more believable.
The vocal talents of Jon Herder (Napoleon Dynamite), Aaron Ruell (Kip) and Efren Ramirez (Pedro) reminded me how funny the movie was the first time around, and the cartoon is a testimony to a great cast of characters. Napoleon's legacy has trickled into High Schools across America, many staging their own remakes of the iconic dance scene, skits of the skit, if you will, then posting them on You Tube! There's even a college Professor doing the Dynamite! I couldn't leave you without treating you to another run of the original clip, so here it is – presenting Napoleon Dynamite and his sweet canned heat. Enjoy. Catch the next episode next Tuesday on E4.
[yframe url='http://www.youtube.com/watch?v=kr7djGY1fhA']