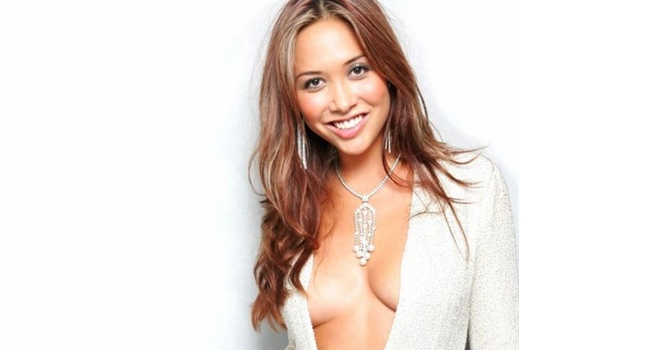 Celebrities are a strange bunch, it seems that whenever you peep behind their trap doors you get a sneak peak at the odd ball below, just look at Saville. Myleene Klass is no different. Whether it's the fame that makes you bonkers or the bonkers that gets you famous I don't know. We'd have to ask Trisha or Poirot to work that out for us, I simply don't have the time to analyse nutball celebs.
So, in an interview Myleene was doing yesterday she let this little info diamond slip out. The interview was actually about her role as Ambassador for a charity called The Big If London who pester politicians at G8 about the starving of the world. Good.
What she actually said was that she put some of her personal boob milk into her Dad's tea once, and since then offers it out to friends and family. I think she asks her friends first though, rather than surprising them after they've had a glug, but still, a bit odd. I wrote about a Dutch TV presenter who drank from a teat live on air the other day, and like I said then, it's not the act of drinking breast milk that's weird.
I mean most of us have done it at some point in our lives, however long ago. I think I am more surprised about how public it all is. Maybe I'm a fusty old fuddy duddy. If she offered me some of her special milk when I went over to her house for for one of our regular chats, I expect I would say "yes please Myleene, don't mind if I do" because I can't miss the chance to try something different.
☛ More Milk Drama: Sucking Milk Straight From The Teet
My gut tells me, however, that this may well be a stunt to promote her charity. I'm not saying she's lying, I'm sure she's bonkers enough to offer her fluids about willy nilly; but let's be honest, would I be writing/ you be reading about her charity if she hadn't mentioned it? I doubt it. Well, at least we've been duped into reading/writing about something worthwhile that she's doing, rather than writing her guff laden songs of arse like normal.
I've never paid any attention to Myleene before, so everything I read was a new fact, mostly dull, but….. something I did find out, and I think you Chirpsers will like this… her mum is called Bong.
☛ More Milk For You Sir?:
Dutch Daytime TV Presenter Drinks Milk From Woman's Breast Live On Air (NSFW)