It's undeniably that Nicolas Cage is one of the greatest and most prolific actors of our generation, but I don't think he's ever going to play a role as hard as the one he's got lined up for his next movie: Nicolas Cage.
Featured Image VIA 
The bizarre metaproject is the brainchild of Tom Gormican (Ghosted, That Awkward Moment) and Kevin Etten (Ghosted, Reaper, Workaholics) and will see Cage star as a over the top, ridiculous version of himself with a hell of a lot of personal problems – and even more on the way. It originally sounded too ridiculous to ever actually make it to film, but Lionsgate are now on board and have confirmed that the release date will come March 19th, 2021.
The movie is called 'The Unbearable Weight Of Massive Talent' and Gormican will be directing. Here's the plotline of the movie, courtesy of Hollywood Reporter: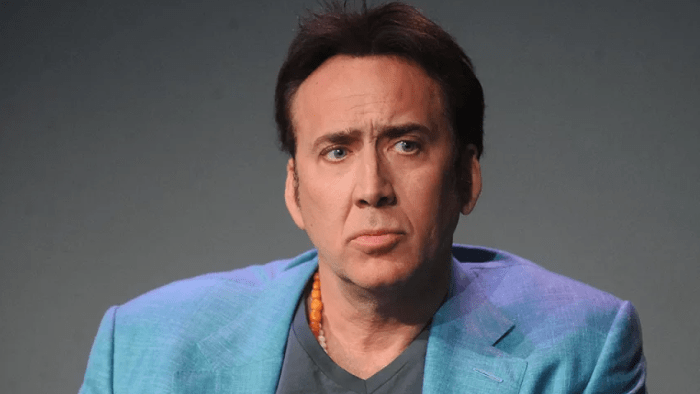 Cage, if deals close, would star as actor Nicolas Cage. The character is desperate to get a role in a new Tarantino movie while also dealing with a strained relationship with his teenage daughter. He also occasionally talks to an egotistical 1990s version of himself who rides him for making too many crappy movies and for not being a star anymore.

The Cage character is also under a mountain of debt and finds himself forced to make an appearance at the birthday party of a Mexican billionaire who happens to be a fan of Cage's work and secretly hopes to show him a script on which he's been working.

While he bonds with the man, Cage is informed by the CIA that the billionaire is actually a drug cartel kingpin who has kidnapped the daughter of a Mexican presidential nominee, and is recruited by the U.S. government to get intelligence. The situation spirals even more dramatically when the Mexican brings over Cage's daughter and his ex-wife for a reconciliation, and when their lives are on the line, Cage takes on the role of a lifetime.
Wow. That really does sound bonkers doesn't it and with Lionsgate set to produce, it would seem like this is going to get the big budget that it deserves and be as stupid as possible. Only gotta wait a year for it as well – the release date has been confirmed as March 19th 2021.
For more Nicolas Cage, here he is spending NYE in a small pub in Somerset and buying everyone a drink. What a guy.