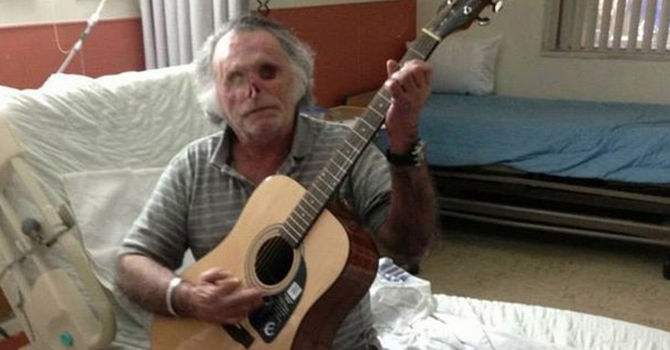 I'm sure you all remember the bath salts fueled attack on a homeless guy in Miami this time last year. For anyone who was in a coma in North Korea at the time and missed it, what happened went like this: Eugene, aged 31, was off his teeth on bath salts and attacked Ronald Poppo a 65 year old hobo. This was no normal attack, the naked Eugene literally bit 80% of this poor guys face off. The police couldn't get him to stop feasting so he was shot dead at the scene. We covered this at the time of course, here's two posts about it, but seriously, seriously, the second one really is ultra-NSFW. I looked and wished I hadn't.
☛ Original Story:
Naked Cannibal Chews Dude's Face Off In Miami
Photo Of Man Who Had His Face Chewed Off
Scroll forwards 12 months and Poppo is still in recovery and living full time in Jackson Memorial Medical Centre – South Miami. He lost both eyes and nose in the mauling but is slowly readjusting to life and has taken up the guitar. Can you even imagine the dark blues this dude might come out with? He still doesn't speak about the attack which I totally get, that's not something you would want to relieve in a hurry. It doesn't bear thinking about. I mean, the pain is going to be awful, of course, but imagine the sound inside your own head of someone eating your face…. jeeeeeeez.
☛ Read Next: Cannibalism On The Rise #2 — North Korea
Here's a little video message from him filmed last week…. I know I shouldn't say it, but I can't help it… he looks a bit like Skeletor now don't you think? I know, I know, my karma rating just hit the floor but Skeletor was kinda cool… no?
☛ Read Next: 
Siberian Cannibals — Fishermen Trapped In Sub Zero Temperatures
[yframe url='http://www.youtube.com/watch?v=byVewbZYqhA']