The fact that someone I went to school with was on the recent victorious Lions tour to Australia made me seriously evaluate the decisions I have made up to this point in my life. Here I am roughly two and a half months later and the only difference is that I am now unemployed. Evaluations are tricky. Anyway, without wanting to pine too much the point I am attempting to make is that going on tour with the Lions, to those who don't know rugby, is a pretty big honour and thus winning is a massive deal. As such, the team got the chance to meet David Cameron recently and live it up at 10 Downing Street, which I would imagine is the same feeling as being given some crappy present; you appreciate the sentiment, but really you'd have preferred some money or whatever else floats your boat.
☛ Next: Aussies Attach GoPro Camera To Rugby Ref
What has got people talking about the visit is that Manu Tuilagi, who plays for Leicester Tigers and England, did the old "bunny-ears" gesture behind our dear prime minister when having a photo taken with him. As pranks go, this one is pretty tame and should probably have gone unreported. However, loads of people, including Tuilagi's manager, have insisted that he apologise profusely for the incident.
Tuilagi does have previous indiscretions against his name, all of which seem far more interesting than this lukewarm affair.
During the last rugby world cup he was fined £3000 by the England team after jumping into a harbour in his boxers after a hard night of drinking. This was after the whole team had been criticised for their conduct on a night out earlier in the tournament during which then-captain Mike Tindall was shown being less than faithful to his wife Zara Phillips.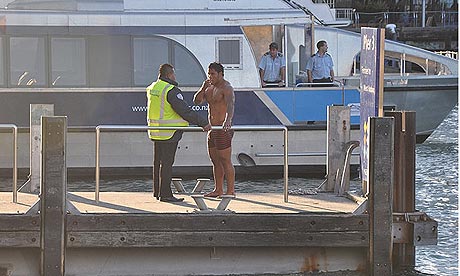 There are two ways to look at this incident. On the one hand, its kinda disrespectful and as a professional sportsman he should acknowledge he's a role model. After all, he is a grown man and if he really wanted to burn him he could have attempted the de-bag. Conversely, if you aren't speaking in cliches, this is a storm in a teacup and anyone who gets up in arms about this sort of thing seriously needs to chill out. A few ex-England players have condemned his actions, but really they need to remember that this is a man he runs at full speed into other men for a living, so in comparison his actions must seem pretty casual in comparison. I can't imagine that David Cameron would even admit he cared given that it would make him look like the biggest stiff of all time, and those elections don't win themselves.
☛ More Rugby: Slow Motion Unicycle Rugby
Eric Cantona Pulls Off Tekkers Rugby Trick Shot
Massive Lad Danny Cipriani Gets Hit By A Bus