Back in May there was a big story about a lesbian couple who were attacked on a bus in Camden, north London by a group of teenagers after they refused to make out for the boys' enjoyment.
Featured Image VIA
Footage of the assault on Melania Geymonat and her girlfriend Christine Hannigan has now been released and it's pretty pathetic stuff from the boys as they make 'scissoring' gestures at the women, throw coins at them, rob them and eventually end up in a scrap:
The good news is that three teenage boys aged 15, 16 and 17 have admitted the homophobic attack at trial this week (not like they had much choice) and will be sentenced at a later date.
Prosecutor Saira Khan told Highbury Corner Youth Court:
It is undisputed that it is less than ten seconds after going on the top of the bus they then are approached by three of the group of four.
She described the boys as approaching the women like the 'tide washing in' and said the teenagers saw the women as 'some form of entertainment' which was why they were throwing coins at them.
District Judge Susan Williams, who will sentence the boys, added:
They were clustering around watching them like some sort of sideshow, they seem to think it a huge joke and behaved inappropriately.

I don't know if I would describe it as a "hate crime" but they quite clearly targeted this couple.

It is plainly the fact it was a same-sex couple that attracted the boys and provoked their interaction.

I would hope in this day and age we could tolerate others and not carry on in the way that they did.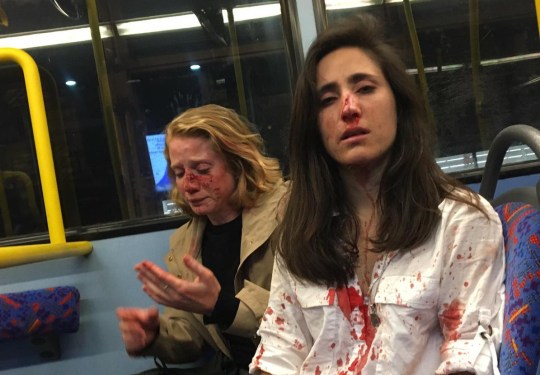 Good to see this saga end appropriately with the boys facing sentencing, it's just a shame that more couldn't be done in the moment to help these women. I mean I know the bus driver needs to keep his eyes on the road while driving but surely he or some of the other passengers below could hear the commotion upstairs or see it playing out on screen?
I'm not saying head up there and risk getting stabbed to death on the London night bus but how about stopping the bus and calling the police? Oh well, too late now but at least justice seems to have been done.
P.S. Speaking of lesbian couples, here's what Russian pop stars t.A.T.u. are up to today. Remember them?
[h/t Metro]