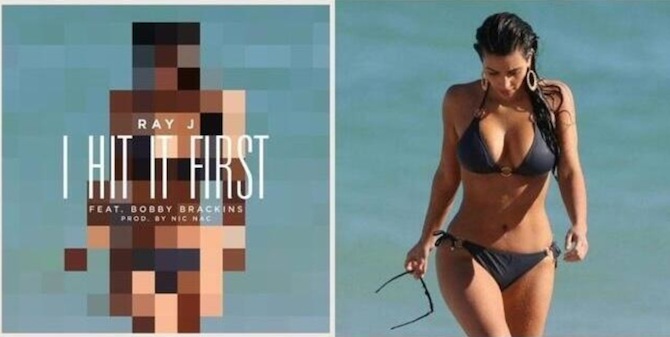 R&B singer Ray J has released a song in which he claims to be the Christopher Columbus of Kim Kardashian's vagina. But is that really a fair claim to make? If I had to make a wild guess I'd say those shores had already been stormed, and the fur trade already established, way before he showed up with his R&B swagger and video camera, ready to propel the Kardashians to superstardom with his penis.
☛ More Kim K & Kanye:
Kanye West & Kim Kardashian – A Love Story For The Ages
Random Dude Photobombs Kanye West & Kim K's Perfect New Year's Eve Picture
'I Hit It Before Kanye West' would probably be a more accurate title. But then there would be no ambiguity, and that's no fun. What he wants you to do is find the clues in the song, hidden amongst super deep lyrics like "She might move on to rappers and ball players/but we all know I hit it first", and "I hit it north, with her ass going south/but now baby chose to go West". Ooh, cryptic!
Let's try be a bit understanding. Breaking up with someone is hard to do, but eventually you move on. Time heals all wounds, as they say. But what would you say is a decent period of time to get over an ex? Ten years?  I'd say that was a healthy period of time.  Ray J has released this song ten years after he filmed himself boning Kim K and six years after he leaked the tape to the press.
Is he — gasp! — still in love with Kim K? It does seem a bit out of order, considering she seems happy with her new fella Kanye, and is after all with child.
☛ Inventive: Kanye West Set To Name Hid Kid North 

Is this simply the kind of gentlemanly behaviour we should expect from a guy who has had a less than stellar music career, two reality TV shows (one about finding love and another about living with his more successful sister, Brandy), once brawled with rapper Fabolous in a nightclub after a disagreement on Twitter, who openly lolz at his ex when she tweets things like "I will not be defined by my past", and who, after all, leaked their sex tape for the publicity.
Stay classy, Ray J.
[yframe url='http://www.youtube.com/watch?v=Aa0hj82sS1k']