Everybody likes bacon as a side order, but have you ever considered having it with orders like chicken nuggets? Or an ice cream sundae? Or a McFlurry?
Featured Image VIA 
Well now you can, because Free Bacon Hour is coming to McDonald's. At participating McDonald's next Tuesday between the hours of four and five, ANYTHING you order on the menu will come with a free side of bacon if you request it. Whilst it's probably most normal to add bacon to your Big Mac or maybe have it on top of your fries, this bizarre promotion will also enable you to whack some on your desserts, so you can have slices of bacon on your apple pie or in your McFlurry if that's what you want. Is that what you want?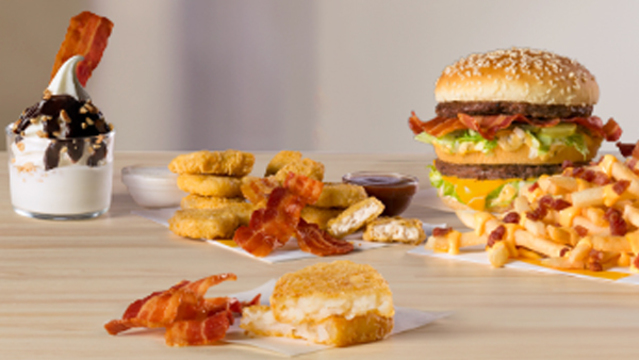 Free Bacon Hour is set to hit McDonald's next Tuesday 29th January from 4 – 5pm, but it's looking as though it's only going to be a promotion in America as the idea behind it is to promote their new applewood smoked bacon menu option. This is apparently available with all the classics like the Big Mac, Quarter Pounder or Cheesy Fries, but I'm pretty sure none of that is available over here so Free Bacon Hour won't be happening either.
Bummer – when you gonna give us a Free Bacon Hour Ronald? Could really do with something like that over here right now.
Of course, McDonald's are giving away free cheeseburgers all this week, so there is that. Can't have it all.