How do you say I love you in Kazakhstan in 2015? Apparently the answer is to dress up as your 17 year old girlfriend and try to take her exams for her.
That was the ploy used by 20 year old Ayan Zhademov in any case. His unnamed girlfriend was apparently terrified of taking her United National Testing exam – the test that determines college places for students in the Kazakh nation – and Ayan saw no better way to help her through this then to dress up as her and attempt to take the exam in her place. True love ladies and gentlemen.
Ayan donned an old black wig and borrowed his girlfriend's skirt and blouse, as well as applying little bit of makeup, before heading into the exam room. Whilst his disguise may have been convincing to some (???), he was unfortunately busted by the exam invigilators who noticed he didn't exactly match up to the picture on his (her?) ID card.
He was pulled to one side and when he tried to disguise his voice to that of a woman the game was truly up, as the invigilators realised that he was quite obviously a man trying to speak in a voice that was way too high for him. Ayan was subsequently fined the equivalent of £1400 (oof) and his girlfriend now might not even be able to go to college – she has to wait another year to take her exams again.
Images VIA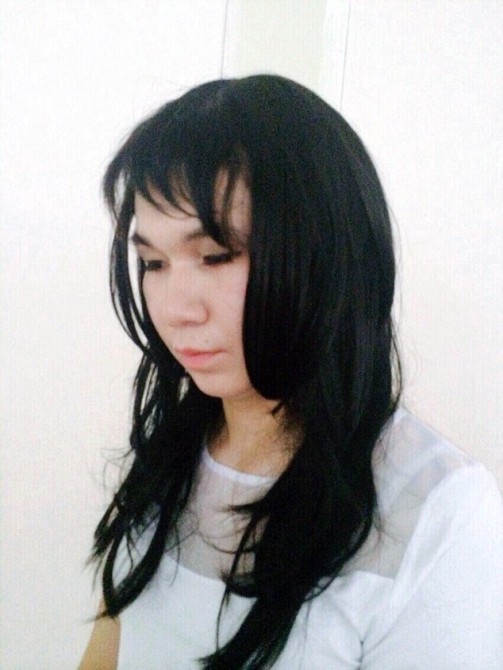 It's not all bad news though – a local businessman named Olzhas Hudaibergenov was so impressed with Ayan's dedication to his lady that he agreed to pay half the fine and most of the girls present are completely taken aback by his romantic gesture. One student named Dariga Nesterova had this to say:
It was stupid but very romantic. Sometimes love leads us to do silly things, I wish my boyfriend was this romantic.
So there you have it. If taking your girl out for dinner and a movie on Friday night just isn't cutting it, then simply dress up as her, try and take an exam for her and ruin her chances of going to college. if it doesn't work, then at least all her classmates will be falling all over themselves to hook up with you.
Unfortunately this plan might only work if your girlfriend is still in school.
READ NEXT 
Indian Students Caught Cheating In Exams In The Most Epic Fashion Ever
Student Has Sex With Sheep To Relieve Exam Stress
Watch Man Dressed As Barbie Fight Off Sex Attacker In Toilet Cubicle