About a week ago we discussed that Dennis Rodman had headed back to North Korea after his successful visit earlier in the year to kick back and chill with his good buddy Kim Jong-un. Whilst many haven't exactly thought that Rodman's actions over this issue have been particularly well considered – you know because he's wilfully hanging out with a dude who's alleged to have committed some of the worst abuses of human rights in the world – it's doubtful that he cares because he's just hanging out with the ruler of an entire country that completely buzzes off him and is probably showing him the best time ever. There's also quite a valid debate that actions such as these could lead to a thaw in the diplomatic tensions between North Korea and the USA, but we'll have to wait and see if that does work out.
Rodman stayed in North Korea for five days and although the exact details of his trip haven't come to light he did manage to make a completely ridiculous announcement when he was the first person in the world to mention that Kim Jong-un had just had a daughter which he had named Ju-ae. Whether this was a deliberate ploy by Kim Jong-un or just a slip of the tongue by Rodman isn't yet known, but Dennis Rodman announcing the birth of his baby seems like the kind of thing that Kim Jong-un would completely love, irregardless of how it came about.
Aside from this information, Rodman also made the following statement about his trip to The Guardian, and it seems that he is attempting some kind of 'diplomacy through basketball' initiative:
'The Marshal Kim and I had a relaxing time by the sea with his family. We shared many meals and drinks where we discussed our plans to play a historic friendship basketball game between North Korea and the US as well as ways to develop their basketball team. I held their baby Ju-ae and spoke with Ms Ri [Sol-Ju, Kim's wife] as well. He's a good dad and has a beautiful family. Kim told me, 'I'll see you in December.'
☛ Read This Next: Why North Korea Hates America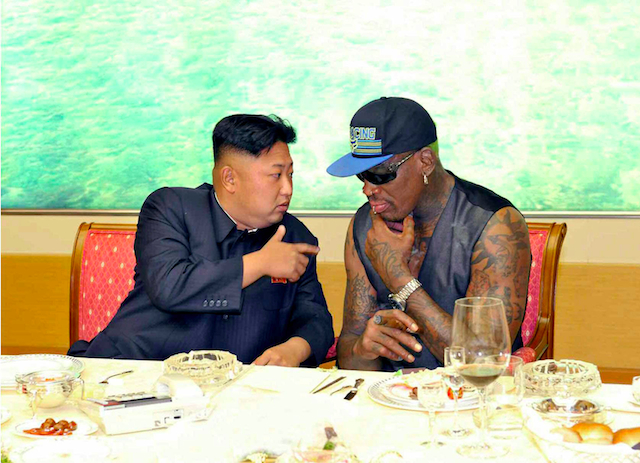 I don't really know how he can classify a basketball match between the US and North Korea as a 'friendship' match given the current state of the relationship between the two nations, but it's nice to see Rodman actually trying to do something. I mentioned this earlier and even though it seems completely outrageous, the fact that the two nations might have to co-operate and work together to make this basketball match happen may actually lead to a genuine breakthrough in hostilities between them. Or at the very least mean that the two are slightly less frosty towards one another.
Rodman even stated that this one of Kim's intentions behind organising it, although it seems more likely that he just wants to wet himself again at seeing some of his heroes involved with something to do with North Korea: 'Kim is a great guy, he loves basketball, and he's interested in building trust and understanding through sport and cultural exchanges, I know in time Americans will see I'm just trying to help us all get along and see eye to eye through basketball and with my friendship with Kim I know this will happen.'
Sounds promising. I'm not exactly sure what experience Dennis Rodman has of actually organising a basketball match – it's probably been a while since he's played in a pick up match or one that wasn't organised by the NBA – but he surely has enough friends and contacts to make it happen. Or to get his manager/agent to make it happen.
☛ More North Korea: North Korea Hates Your Trendy Hairstyle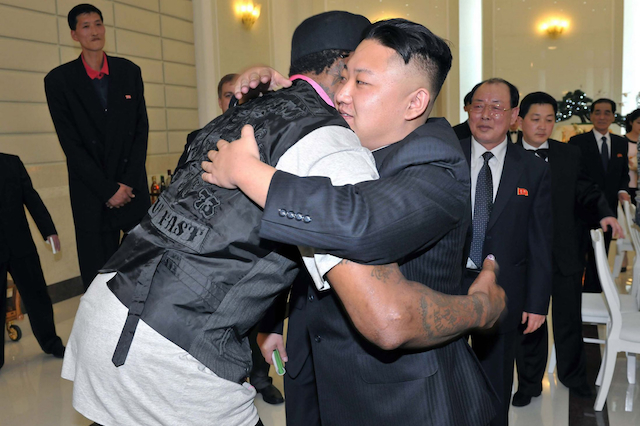 Rodman hasn't stopped banging on about it so it seems like this basketball match is definitely going to happen. He's even roped in his old pals from Paddy Power to help him out with the sponsorship of it. In case you forgot, Paddy Power paid for Rodman to visit Rome earlier this year in another ill advised stunt where he rode around in a specially commissioned Popemobile around the time that the new Pope was set to be announced. Obviously they've stayed in touch since then and are only to eager to get involved with this venture, as you would be.
Paddy Power – who it seems is actually a person and not just the name of a company which is crazy news to me – said that after the Pope stunt he went for pizza with Rodman in Rome where the idea of 'basketball diplomacy' first came about. He said that the idea was 'a bit bonkers' and that Paddy Power (the company, not himself) had no experience in international relations but he was more than happy to get involved with it.
He stressed that neither the company nor Rodman himself actually endorsed Kim Jong-un's regime though which I think would go without saying but also seems to completely undermine the whole process and raise questions that just can't be answered. Still, we can only hope that 'basketball diplomacy' is a success and leads to a new format of diplomacy through nations which is surely preferable to the default option these days which seems to be just to bomb them. We'll find out in December when this basketball match is allegedly scheduled to go down.
☛ This Is Why The Don't Endorse His Regime: Kim Jong Un Has Ex Girlfriend Executed After He Found Out She Made A Sex Tape