Conor McGregor vs Floyd Mayweather may have been a joke of a fight but it still retains the title of 'Fight Of The Century' and a lot of people did tune in to see Conor do way better than anyone thought he would, eventually bowing out in the tenth round to a stoppage.
Featured Image VIA 
A lot has been made of the fact that Conor won the first three rounds of the fight and whilst it's assumed knowledge that Floyd let him take these so he tired himself out and it was all part of his gameplan, Conor himself has a different take on the issue, offering the following detailed analysis about why he ended up losing: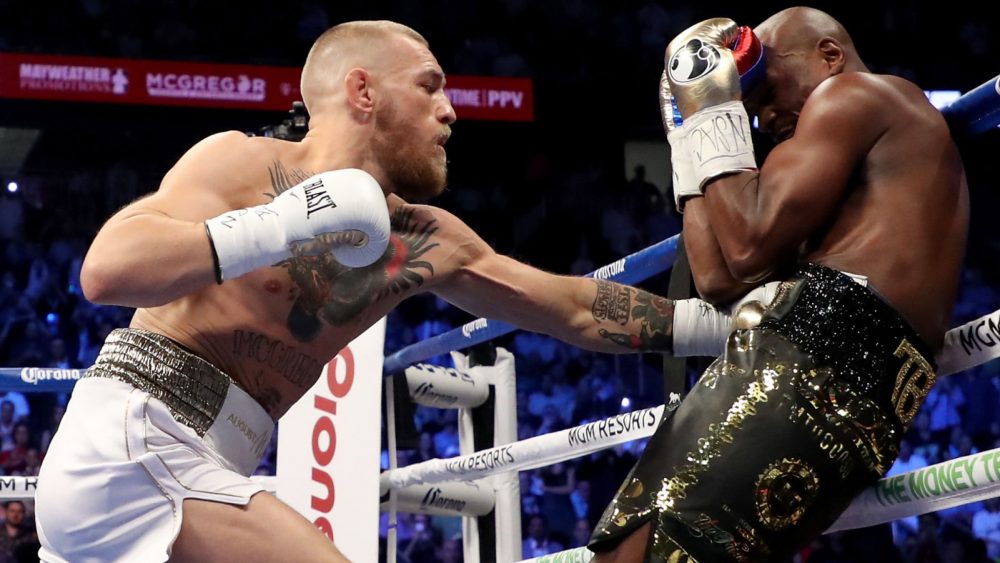 I enjoyed the whole experience. I certainly took the early rounds handy.

I was told he was fast. I was told I wasn't going to land a punch. I was told I shouldn't be in the same ring blah, blah, blah.

Show me his highlights in the fight! The only thing they can show me is round 9 and 10 when I'm completely fatigued. Of course, I went in to win. It didn't go my way. He changed up his game plan three times.

He went from his 'Philly shell style' to his 'rope-a-dope' style. I was picking him off on both of those styles. And then he changed it up with a third change of game plan in the middle of the fight and went with Mexican style: hands up, knuckles over the eyebrows, dipped in low and started walking forward.

It's a style of fighting that caught me off guard because he never fights like that. I did not prepare for it and I did not anticipate it and ultimately it got him the win.

So, much respect to him and it is what it is. And if I got another go, I would beat him.
Hmmm. Whilst this might be true about Floyd changing styles, I'm not sure if Conor would beat him if they fought again because of this. I mean what's from stopping him dropping another fighting style that Conor wasn't prepared for?
Still, it's an interesting take on the fight and I'm pretty sure we would all tune in though if the pair did end up fighting again. Can't really see that ever happening, although Floyd is apparently in serious negotiations with the UFC now? 2017 was weird man.