We recently showcased the bleak US freighthopping photo series by Mike Brodie and Dash Snow's crushingly dark drug den art; I didn't think things could get any harsher as far as documentary photo projects were concerned. I was wrong.
Boris Mikhailov was born in the Soviet Union, in the area we now know as Ukraine (although how long that will be the case we don't know). He has been described by some as the most important artist to have emerged from the former USSR and by others as an exploiter of the desperate and needy.
His fine art photography certainly is honest, bleak and harrowing but it's also intimate and weirdly playful (but in a truly horrid way).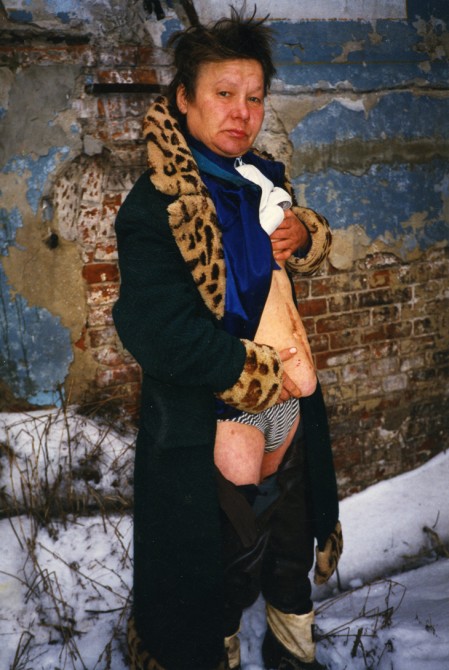 Mikhailov lived and worked for several decades in his hometown Kharkiv, Ukraine where he trained to be an engineer. Under Soviet rule people didn't have the liberties and freedom we have come to expect. When the KGB found the naked photos of his wife that he had taken he lost his job and went into photography full-time.
As the USSR's shackles slowly fell from Eastern Europe Mikhailov was perfectly placed to document the aftermath. Under communist rule everyone except the tiny minority of upper echelon elite were dirt poor. As capitalism's tendrils crept suavely through western doors the human landscape changed.
A new layer of wealthy business folk appeared at the top, and at the bottom a new strata of crushingly poor, hopeless, homeless people were born.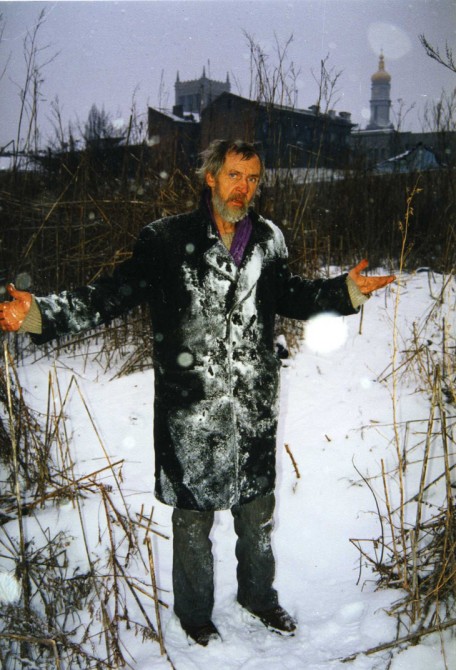 Rather than photograph the immaculate new wealth that was washing in from foreign lands Mikhailov decided to cover the plight of this new ultra-poor, under-class; they were known as the bomzhes — homeless without social support. They were (and in some places still are) capitalism's failures, capitalism's disease.
Mikhailov spent time with the homeless population of Ukraine and they began to trust him. The photos below show this disenfranchised population were totally at ease around him.
Some critics questioned whether Mikhailov was exploiting these bomzhes. He was, in effect, making money and fame for himself through the photos he took of them. Mikhailov would argue that he was simply bringing their plight to popular attention. I couldn't really tell you where I stand on the argument.
Mikhailov paid his models to bare themselves to various degrees, but it is unclear how much or how little he goads them to "perform".
Most of the pictures I've selected here come from a project called "Case Histories" which is a grueling 450 strong photo collection taken between 1997 and 1998 and won him the Krazna-Krausz Photography Book Award.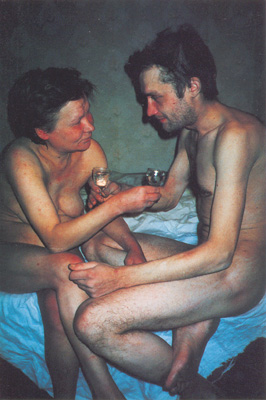 Harrowing, darkly humorous and stomach churning are just a handful of adjectives you might use to describe the misery he displays. The Guardian's Adrian Searle wrote a critique of the series and I fully agree with his sentiments when he writes "Part of me wished I had never looked at them".
So here are a cross section of some of his snaps with some quotes from Mikhailov along the way:
(Use your arrow keys/slide on mobile to view the images.)