Sport is dangerous: FACT. I've been saying it for years and frankly I'm flabbergasted that people are still playing silly buggers on a global scale. As part of my ongoing quest to stop people running about in shorts and get them to take it easy on themselves, I have produced the following bleak list.
Here's 7 footballers who either died on the pitch or died later from injuries they sustained whilst chasing a ball about. Basically it's a bunch of people who kicked the bucket whilst kicking the ball. We start with William Cropper in 1889 and end with last week's tragic death of Albert Ebossé Bodjongo in Algeria.
Hopefully you'll think twice before picking up the ball next time…
1) William Cropper — 1889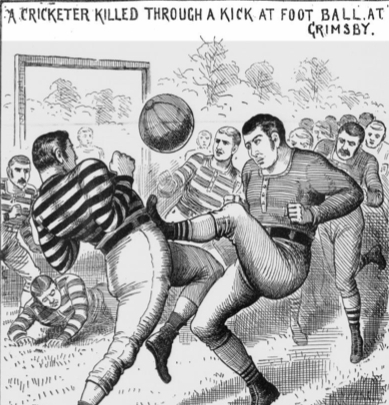 Cropper was an all round sports whizz and played for Derbyshire County Cricket Club and Derby County Football club. Double sporting is dangerous indeed so it's no surprise he came a cropper.
Cropper was playing with Staveley F.C. against the mighty Grimsby town when his sporting joy was cut short. He collided with Dan Doyle after just 15 minutes of play and left the pitch in palpable agony.
Doyle had inadvertently ruptured Cropper's bowel and he died in the changing rooms not long after.