Another day, another scandal in the States, although thankfully this one doesn't involve any dudes fucking alligators, AK-47s or even semi-automatics in general. 'Prop 60' refers to another type of gun and making sure that the 'safety' is well and truly on.
Featured Image VIA
The proposal for this new law, which would see pornographic actors in the state of California forced to dawn their Jonathans while appearing on camera, is set to be cast to a vote on the 8th of November 2016. Yup, all male porn stars will be required to wear a condom when filming their sexytime if the law is passed.
Now let's be real here for a second – obviously there are benefits to the performer not catching an STD from a bad shoot for instance. However, I feel that this is solely a choice that the mattress actors and actresses must take upon themselves too. No one should have more say in this than the people it directly affects. I mean yes, this would be a massive drive forward to any safe sex campaign out there, but how would it reflect on viewing figures? On DVD sales? We forget that this industry is a business behind all the office roleplay.
I mean don't get me wrong, I'll wrap it every time without question, but I don't want a luminous pink meat-cape assaulting my field of vision when I can't pull a girl at the club on a Saturday night and need to find some kind of release in the form of a drunken 2am wank.
And if any wisdom at all can be taken from daytime television, not everything works 100% of the time, lest we forget the glorious man that is Ross Geller and his unfortunate mishap with shaft-wrap.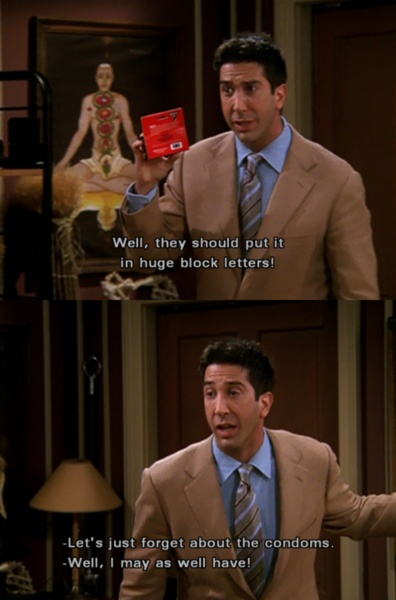 Image VIA
What we need is more information, more education – not impose a new law on consenting adults as to what decisions they're forced to make.
To read about a condom that feels like human skin, click HERE.