This article was inspired by the colourful life of American politician Anthony Weiner, who resigned from Congress back in 2011 after he'd mindlessly sent a dick pic to one of his followers on Twitter. By July this year the scandal had died down and Weiner returned to politics, but it soon became clear he had yet to learn his lesson when news broke that he'd been sending dick pics AGAIN, this time under the loin-moistening alias of 'Carlos Danger'.
☛ Next: Guy Sends Dick Pic To Girl On Dating App, She Forwards It To His Mum
The man reeks of disappointment. There are so many things about Anthony Weiner that scream "total let down", like his terrible marital relationship skills, his exploitation of racial tensions to win his first election, and his unbelievably generic and cringeworthy apology to his " wife, family, constituents, friends, supporters and staff". The most disappointing thing about the whole Weinergate scandal, though? The dick pics weren't even good! Have you seen them? If not, get on Google and prepare to be underwhelmed by the depressing whoopee-stick that lost the ex-frontrunner his job.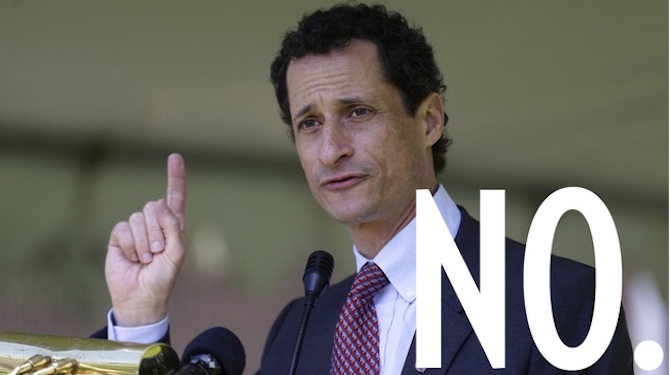 You'd think that having something approaching celebrity status would discourage a guy from sending peen pics…it must be embarrassing, even for the most attention-hungry desperadoes, that the tabloid inches add up to more than your actual dick length. However, Weiner isn't the first man in the public eye to share his dong with the world; Kanye, Chris Brown, Dappy and even Justin Timberlake have given us a cheeky glimpse, and have carried on with their lives, undefined by their shlong selfies.
So why has Weiner had so much coverage in comparison? I think that there are three main reasons behind his dick's fame exceeding his own. Firstly, no one actually cares about his real job. It's all over for him now, no one likes him, and no one wants to know about his life anymore. Secondly, his name is genuinely Weiner, which is way too much of a punworthy Godsend for the papers to ignore. And finally, the fundamental factor that powered the Weinergate scandal: he just got it so, so wrong. The splayed feet take up most of the photo, the helmet itself peeking out like Diglet from Pokemon from what I can only imagine are a pair of white, dad-style Y-fronts. Is he a show-er or a grow-er? It looks like it's just below a semi to me, although to be honest I was quite distracted by the rugs and towels he stands on, which seem to be the main focus of the picture, photobombed by the dick.
 ☛ Next: Video Of Naked Wizard With Micro-Penis Getting Tasered By Cops 
It isn't my place to say whether or not you should be sending dick pics. Personally, I think they're something that should be left in high school along with happy slapping, because a disco stick on its own, in 2D, on a phone screen is completely useless- even with the vibrate function on. Dicks without the rest of the attached human look weirdly anatomical, comical almost, and unless you can be fully sure that the recipient actually wanted one (i.e, he/she asked you for one and you're sure it won't get Tweeted) then I think you should keep it to yourself. Your balls are on the line, don't you know?
My own views aside, I think Mr Weiner has shown the world that there's a distinct lack of education in the stick shift selfie department, and it's embarrassing for everyone (mostly for him, but I'm sure you cringed as well) so without further ado I bring to you the 2013 Comprehensive Guide to the Dick Pic: