Vladimir Putin may have some very questionable policies about important issues such as female equality and gay rights, but one thing you can't deny about the guy is that he is an absolute machine.
Featured Image VIA
Unlike Trump, who wastes a lot of his energy faffing about on social media, Putin spends his time building super armies, shagging Rupert Murdoch's ex-wife and scaring the absolute shit out of terrorists.
All in all, he's a fearsome bloke and this has been confirmed with the release of his intense morning routine. Most of us spend our mornings trying to shower away the work-related depression before jumping on a packed train trying to ignore fellow commuters. Putin on the other hand has a totally different strategy.
According to the 2014 profile of the Russian president by Newsweek's Ben Judah, Putin gets his work done at night and so he doesn't roll out of bed until mid-morning. After the late start, he eats breakfast around noon, which usually consists of an omelet or a huge bowl of porridge with some quails eggs and cottage cheese. Apparently, as outlined by another writer Steven Lee, Putin also drinks a juice made from beets and horseradish, the ingredients of which are, "dispatched regularly from the farmland estates of the Patriarch Kirill, Russia's religious leader." Where else?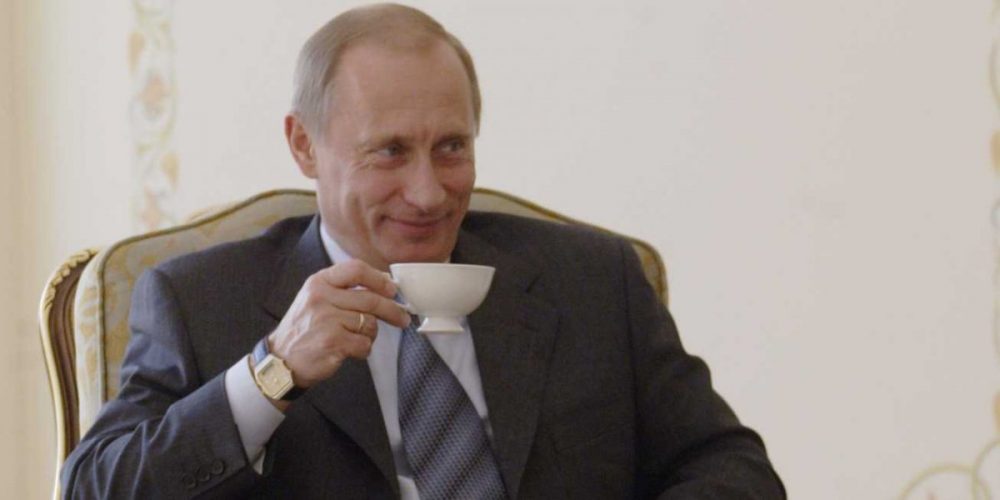 Following breakfast and a coffee, Putin then goes for a two hour swim and rounds this off with some serious weight-lifting, the aim of which is likely intended to continue his masculine public image.
The entire morning is centred around solitude. In his three year research on Putin for the book 'Fragile Empire: How Russia Fell in and Out of Love with Vladimir Putin', Myers says:
His closest companion seemed to be his black Labrador, Koni, who waited poolside as he completed his laps.
After all of this, Putin sits down and begins his daily briefings. What an intense start to the day. Horseradish juice, two hours of swimming followed by weight lifting, all in complete solitude (aside from his dog)? I guess I'd expect nothing less from the guy who turns up to public events with four warships.