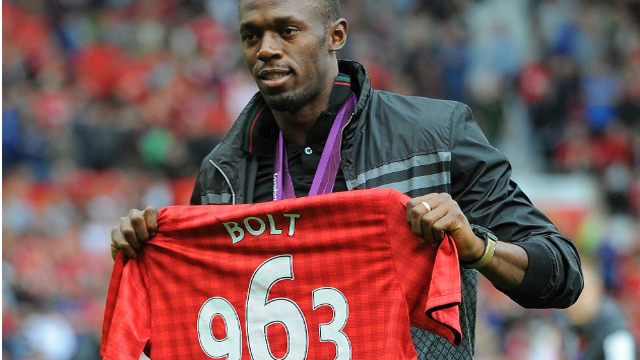 It is well documented that athletics star Usain Bolt is hoping to one day be lucky enough to don the Red Devils kit when his career as the fastest man on the planet is over however his Old Trafford debut could come a lot sooner than expected.
According to some sources the 26 year-old Jamaican will be making an appearance during Rio Ferdinand's testimonial game versus Spanish side Sevilla on 9th August 2013.
Bolt – who put himself at the leader board for the fastest 200 metre time this year at the expense of Tyson Gay with his 19.73 time – has spoken of his excitment at finally being able to rock the famous red jersey.
A source inside the club has been quoted as saying:
"Usain has finally got his wish and he'll be lining up alongside Rio. It should be quite a game. It will be fascinating to see if Usain's speed will be matched by his passing and ball control."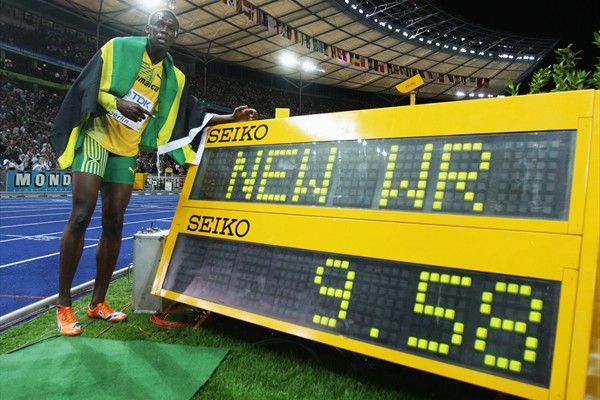 I can't even begin to imagine what kind of FIFA stats he'd have if Andrei Arshavin is quick on the game…or he could end up just being one of those Jesper Gronkjaer type players who bombs down the wing then his asshole drops out.
There were doubts thrown around after Sir Alex Ferguson retired as it was the Scot who previously spoke of his delight at the thought of Bolt making an appearance for the club versus Real Madrid in a possible legends game.
Bolt also claimed the Fergie offered him the chance of a game and even possibly a trial, saying:
"He (Fergie) wants me to play and said let's talk about it over dinner next time you are here. He is a man of culture and offered to take me some place fancy. I told him Nando's would be just fine."
☛ More Usain Bolt:
Usain Bolt And Mario Balotelli Twitter Beef 
Is Usain Bolt A Man Or A Machine?  
[yframe url='www.youtube.com/watch?v=FvPcmyw2Izw']