If you missed it, rapper Tekashi 6ix9ine is currently a federal witness testifying against former friends and gang members in court so as to avoid a lengthy prison sentence himself. All this despite making a career rapping about how he hates snitches, BTW.
Featured Image VIA
Anyway, it now transpires that Tekashi plans to opt out of the witness protection program after his court duties are over, so that he can carry on living life as a famous rapper.
As per XXLMag:
Instead of changing his name and appearance the way many expect him to, the beleaguered rapper will reportedly seek a 24-hour protection service to protect himself and his family members, who have allegedly admitted they fear for their lives after 6ix9ine's decision to cooperate with federal authorities.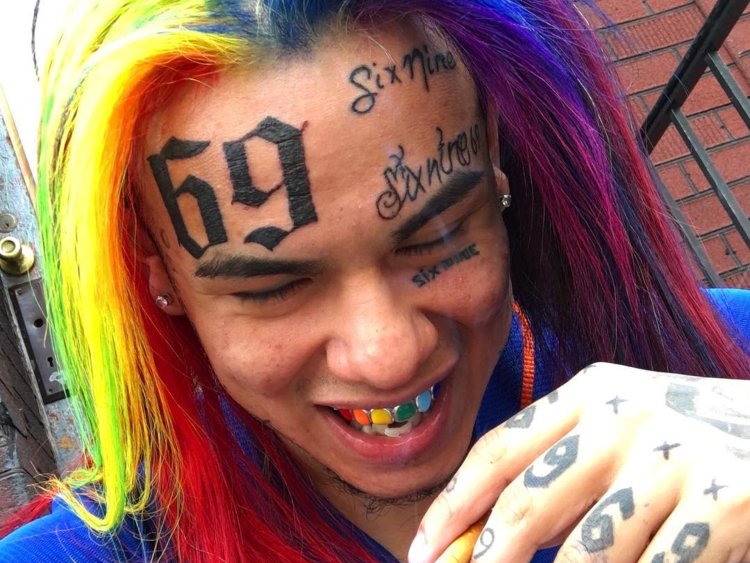 Some might say this is a brave and/or stupid decision from Tekashi, but if you think about it it makes all the sense in the world. I mean if you're going to very publicly snitch on your gang member friends AND have a massive 69 tattooed on your forehead (never mind all the other bait tattoos all over his face and body), it's not like they can give you a face transplant to make it all go away. Eventually, someone's going to find him.
Which means if Tekashi 6ix9ine is going to be murdered for being a snitch, he might as well enjoy his life as a superstar rapper for a little bit longer beforehand, instead of hiding out in witness protection and pretending like he's not going get tracked down and killed sooner rather than later.
Just one problem – is Tekashi even going to be able to afford 24-hour personal protection after this? You can't constantly rap about not being a snitch then turn into the biggest snitch on the planet and continue selling shit loads of records, can you?
P.S. One rumour about why Tekashi eventually decided to snitch on his buddies is that he discovered they were all banging his girlfriend. That would suck if true.