Remember Tekashi 69? He's the New York rapper who built a career around a gangster persona where he wouldn't shut up about how much hates snitches, even though he ended up snitching on his entire crew back in February.
Featured Image VIA
Tekashi remains in prison facing 30+ years pending court cases including racketeering and armed robbery in September, but until then his Instagram model girlfriend Jade Wattley has chosen to get a massive tattoo of him on her left titty to kill the time:
I think this is what's referred to as a 'ride or die' chick. Her boyfriend (who likes to rape and beat up women btw) might never see daylight again but she's still happy to get his face tattooed on her body like he's going to be keeping her afloat from prison for the rest of her life.
Still at least the tattoo came out nice, right?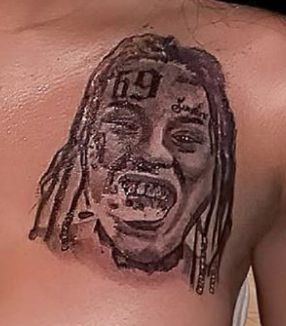 Funny thing is if Tekashi goes free in September he'll have to go into witness protection, in which case is Jade still going to be going around with a massive tattoo of this fool's face on her skin?
Oh well, I'm sure she thought it all through.
Bonus:
P.S. Do you know one of the main reasons Tekashi snitched on all his friends and acquaintances? Apparently, they were all banging his girlfriend. Yikes.