Last year, a lot of people started using fried chicken in ways that we had never before thought possible, including as the base of a pizza and as an ice cream flavour. This year, it seems like the game has changed yet again.
Featured Image VIA
Taco Bell have announced that they're now going to start serving their tacos with the option of a fried chicken taco shell. That means that the taco filling – whichever you choose of course – is literally going to come wrapped in a piece of fried chicken. That's pretty extreme man.
Apparently Taco Bell have been experimenting for four years to come up with the fried chicken shell, to satisfy America's increasing demand for chicken (each American will eat 91.7 pounds of chicken per person this year) amid health concerns over just what it does to your body. The fried chicken taco is shaping up to be the solution and Taco Bell President Brian Niccol had this to say about it all: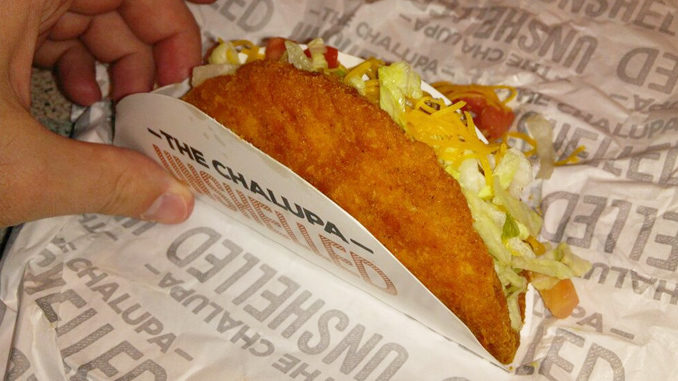 Fried chicken is growing at a tremendous clip.

It's a real void on our menu, and it's something that our customers ask us for.

The thing about chicken is, it can take on a lot of different flavours,

It hits the right chord of being known, but yet different.
"Being known, yet different" – I suppose that's something all of us could aspire to be. The fried chicken taco is going to be called 'The Naked Chicken Chalupa' and will retail at $2.99 at a limited amount of locations initially. If it proves popular, then it could be introduced as a permanent menu item all over the country. Wouldn't surprise me, although there are only limited Taco Bells in England so it'll be a while before we get a chance to experience it unfortunately – unless you make your own of course.
For more tacos, check out why you should never superglue your butt shut with superglue and then eat a whole bunch of Taco Bell. You've been warned.