Japan just had their annual Karaage festival and it was the first time that they had decided to sell a fried chicken flavour ice cream at the event.
Featured Image VIA 
Karaage is a Japanese oil frying technique that usually involves frying the meat (mostly chicken or fish) without any batter. The pieces usually come in boneless small chunks which make them pretty much perfect for a bento box. Mmmmm.
At the festival, various Japanese chefs gather to offer their own variations on the deep frying method, but this year they seem to have thrown in karaage ice cream and karaage ramen to make it a little bit more exciting. Check out the flyer below, I have no idea what's going on in it though: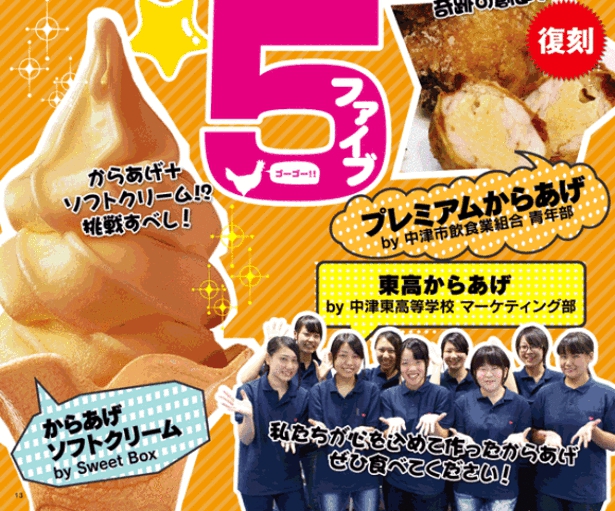 I've been reliably informed that the symbols on the flyers translate as the following: 'Karaagesoft serve ice cream!? You've got to take on this challenge!' and to be honest most Japanese people are probably going to be down with this as it's not uncommon to have really weird ice cream flavours over there. Soy sauce, squid ink, wasabi, and chilled udon noodle with green onions (!) are all common flavours over there, so it's not really surprising that they've finally gone with fried chicken flavoured ice cream. Probably more surprising that it's taken them so long to come up with it really.
No news yet on how it tastes or any reviews, so if you were lucky enough to attend the Karaage Festival let us know how it was. Or send us over some if you managed to pick up a tub.
In the meantime, check out the latest episode of Golden Wing, where we review some of the best fried chicken shops in London.
https://www.youtube.com/watch?v=MLwX7A_92Q4