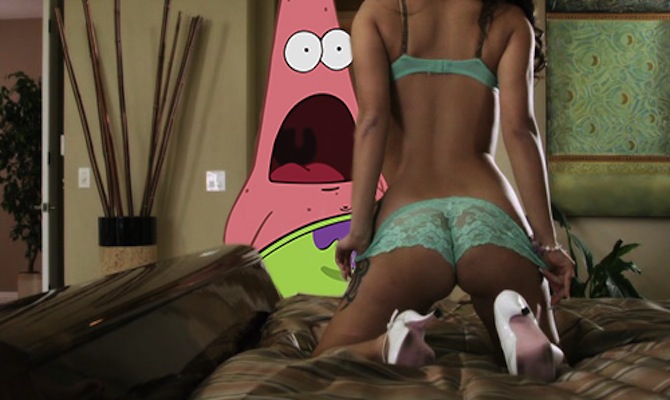 Spongebob Squarepants is a part of everyone's life, whether we like to admit it or not. Maybe you're a fan, your siblings, your children. Or maybe your alter-ego who is scared of the possibility of being judged so lies on a daily basis, to the point where you're shaving everyday despite the irritability because 'bearded hipsters are fags', gingerly kicking your brogues under the bed. You know who you are; the ones who say 'Girls Aloud are a pile of shit', but know all the words to Biology. Grumpy little fucks, unable to take a shred of happiness from this already failing world, because being accepting is seen as a weakness. Change is no longer a revolution, it's a 'a ballbag of hooves'. But I digress, this isn't about you being miserable, it's about my happiness. Me me me. Meme. (Clever girl).
☛ Read Next: Crowd Surfing Spongebob Squarepants Ruins Bro's DJ Set
I'm not usually one for memes, as it becomes very repetitive very fast, but there's something classically timeless about Patrick, opened mouth, screaming at nothing. Well, nothing at first, and then placed in compromising situations, he's screaming at naked women, being Sharon Stone's vagina and men twerking. Enjoy.
☛ Read Next: Meet Sam Spratt, The Artist Who's Brushed Up A Living By Painting Internet Memes