The other week, Robbie Williams caught some backlash for suggesting that the Pizzagate conspiracy theory could be true, and now Sugababes singer Mutya Buena has gone one further by suggesting COVID-19 is a hoax to distract us from it.
Featured Image VIA
Mutya shared a whole bunch of conspiracy theories onto her Instagram Stories the other night, including allegations that Hillary Clinton is awaiting trial for 'cutting off a little girl's face and wearing it as a mask' and that coronavirus is a sham being used to 'distract' the world from A-list celebrity paedophile rings.
35-year-old Mutya had screenshotted the theories from conspiracy pages on Facebook, one of which read:
WHY DOES NOBODY KNOW THAT HILLARY CLINTON JUST LOST HER APPEAL IN COURT OVER 600,000 EMAILS ABOUT CHILD MOLESTATION, TORTURE AND TRAFFICKING AND HAS TO TESTIFY THIS SEPTEMBER? Oh yeah cus they're distracting us.
She also shared the following: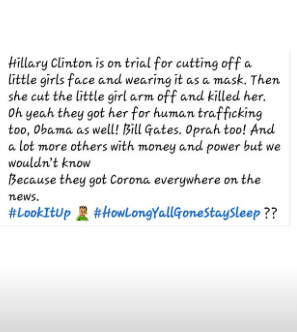 Um I'm pretty sure there's no reputable source or any credible evidence whatsoever that Hillary Clinton cut off a little girl's face and wore it as a mask, let alone that she's on trial for it. I know there's some suspicious stuff out there regarding Pizzagate and those dodgy e-mails with the coded pizza language, but the #lookitup suggestion isn't very conclusive because again, there's no strong enough evidence out there to support it.
The #HowLongYallGoneStaySleep hashtag is pretty telling IMO because I think that's why a lot of people buy into these conspiracy theories – because it makes them feel "woke" and smart and like they know all these big secrets that all the rest of us sheep don't.
Anyway, Mutya also shared a number of posts accusing people like Oprah Winfrey, Ellen DeGeneres and Tom Hanks of being involved in a sex trafficking and paedophilia ring.
One post, with a picture of Tom Hanks, read:
Miss me yet? Do you know if I'm still alive? Where is Rita? Where did we go? Mel Gibson was right "Hollywood pedopfiles have nowhere to hide"
She also shared posts claiming that Oprah had been arrested and is facing trial, that the Illuminati have been abusing children and drinking their blood, and that Steven Spielberg was 'executed last week'. O….K then.
Some people began taking the piss out of Mutya for sharing/believing this stuff, to which she responded:
If U do not like what I put up once again I dnt give a s***… take ur finger out ur a**e and reserch urself

Instagram is so backwards… Nooone likes the truth on here… I'll stick to Facebook. Enjoy living your lies.

Children being murdered eaten used as sex objects… all the big stars and powerful people are being called out… this was a distraction on top of everything else… u aint dumb look what's going on
Always comes down to "I know what's really going on and all the rest of you are dumbasses", doesn't it? Obviously there's always a chance that Mutya Buena is onto something and we really are dumbasses, it just seems highly unlikely.
Never forget:
For a look at the Pizzagate 'kill room' that a YouTuber claims to have discovered, click HERE. Maybe Mutya is onto something after all?