It's been a bad week for Martin Shkreli – not only did he allegedly get duped out of $15million when he tried to buy the exclusive rights to Kanye West's new album, but apparently his credit card details were also stolen and used to order a 55 gallon vat of lube to his house. Lol.
Well, actually he just claimed he lost $15million in bitcoin in an unbelievable series of tweets where he said he met some guy, transferred the bitcoin, then the guy turned out not to be who he said he was – shock horror – but fortunately Shkreli was able to track down the creator of bitcoin Sitoshi – who nobody has ever been able to track down – and get him to reverse the transaction. Of course he did.
FYI, reversing a bitcoin transaction is something that has never been done before, and apparently if you check out the bitcoin exchange there weren't any transactions that went down around that time that would have been the equivalent. Oh man – looks like we all got duped. I don't believe it.
One dude wasn't going to take this lying down though, and when Shkreli later hosted a live chat and left a credit card exposed, he was quick to post the information on Twitter:
Featured Image VIA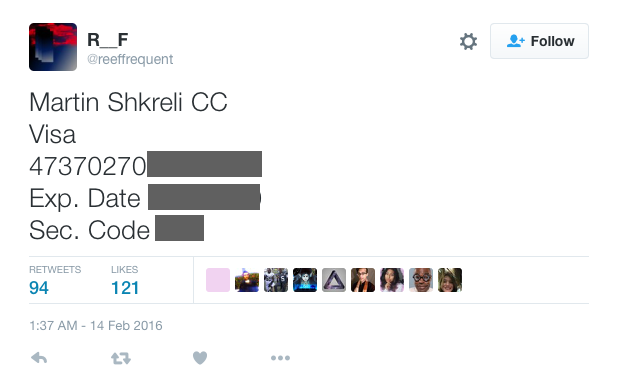 The internet being the internet, someone quickly used his credit card details to order 55 gallons of water-based lubricant to his house. Perfect:

We hope it made it there before he figured it out and cancelled it, although it might not have done because he posted this tweet shortly afterwards:
https://twitter.com/MartinShkreli/status/699004246360875008
Fucking Shkreli, it looks like he's always one step ahead here doesn't it? The dude surely should have gone for the overnight shipping method if he really wanted to shower him with all that lube. A real error on their part.
No word on who Shubhan Jain is yet, but I guess you would assume it was either the person who tweeted the details or the one who ordered the lube. Or someone who ordered something even more ridiculous with his details. Again, here's hoping.
For a more satisfying story involving lube, check out when Japan started the Olympic Games of lube. No, we're not joking.