The Simpsons has become well known for its uncanny ability to predict the future, and it's done it once again after a screenshot predicting The Force Awakens emerged from an episode in 2009.
The episode in question was titled Homer The Whopper and it was written by Seth Green and Evan Goldberg surprisingly. It's the story of Comic Book Guy writing his own comic book about an average guy who gets the power to absorb the powers of comic book characters he touches.
Naturally, Homer gets cast to play the character when the comic takes off and gets adapted into a movie. That leads us to Ginormous Studios, where you can see the following poster clearly outside:
Featured Image VIA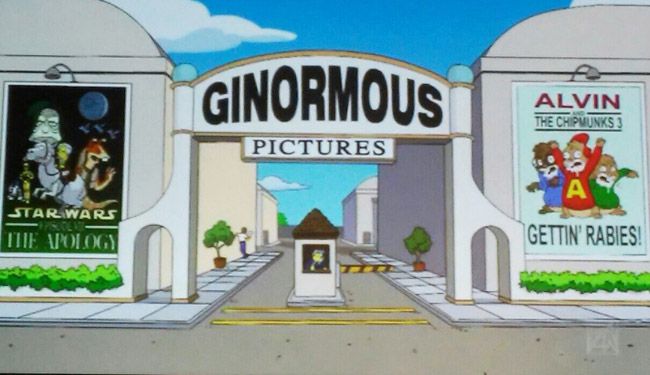 Image VIA
Yes, OK technically The Force Awakens isn't called The Apology and Jar Jar Binks wasn't in it (thank God) but the fact is they predicted it a new movie and it is pretty much an apology for the first three being so shit because it's actually completely sick, as opposed to the pile of dross those first three were.
In any case, this is where it gets freaky. Although the new Chipmunks movie isn't called 'Gettin Rabies' – it has the much less exciting title of 'The Road Chip' – there is a new Chipmunks movie out and it came out in America last Friday. That's the same day The Force Awakens came out over there folks –  if that isn't a freaky prediction then I don't know what is.
The Simpsons – calling it all the time. Here's a supercut of a bunch of their movie references.