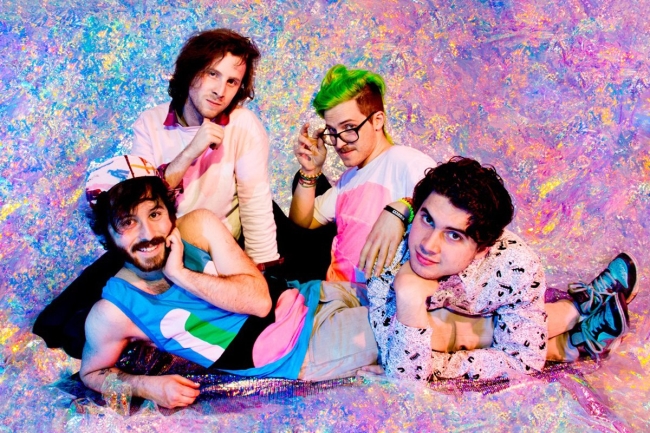 I started writing this feature on a Monday. I was trying to find all sorts of snappy, zingy ways to start it but they fell dismally flat. Trying to be zingy on a Monday is a task on par with trying to push a fridge up a stalled escalator.
Anyway now it's Tuesday and I've stopped trying to be snappy and decided to just get on with it: Anamanaguchi are a four-piece outfit from New York City that describe themselves on their Twitter page as a "hacker boy band." That sounds a bit vague, but that's fine because the Chirpse is here to break it down for you.
More Music We Love: The New Gnarwolves
Firstly, they're not a boy band, not in the Take That sense anyway. Anamanaguchi make loud, fast music with live guitars, bass and drums that also incorporates electronic music and chiptune (you know, the stuff that sounds like the music from old videogames) as well as broader influences like K-Pop and The Beach Boys. The end result is something that sounds like what would happen if Weezer, Kyary Pamyu Pamyu and Nintendo decided to make a record together;
[yframe url='http://www.youtube.com/watch?v=omSeE9Ku9lM']
So far the band has made a bunch of EPs and released two studio albums, the most recent of which, Endless Fantasy, came out earlier this month. It's a sprawling, ambitious work that incorporates a dazzling array of musical styles, from rave to EDM and pop-punk. It's also brilliant as tits.
The video for the title track features a slice of pizza being sent into space. If that isn't reason enough to love it then there isn't much else I can do for you.
[yframe url='http://www.youtube.com/watch?v=6fdr-Fiv92c']
The band also worked on the soundtrack to the Scott Pilgrim video game which came out in 2010. It was released as its own album and is also great. The track 'Scott Pilgrim Anthem' is the stand-out. It sounds like the theme to Mega Man gone all pop-punk.
[yframe url='http://www.youtube.com/watch?v=TANhL8H6Kok']
If you want to own some of their songs but lack cash and have too much Catholic guilt to steal it off the Internet, then you can take advantage of their Summer 2010 Singles campaign, where they released a bunch of high-quality downloads absolutely free. They are all brilliant, especially this one, Airbrushed;
More Music You Will Love: The Sick Chirpse Punk Rock Playlist
[yframe url='http://www.youtube.com/watch?v=i0EC4vV7PoE']
It hasn't been easy being an Anamanaguchi fan in the UK. The band tour the US regularly and have been as far afield as Japan, Ireland and the Netherlands but had never managed to make it over here.
But that's all changed as they have announced a long-awaited live date, their first ever in London, on Sunday September 15 at The Garage in Highbury. We will be down the front row delirious with happiness and excitement as if their YouTube clips are anything to go by, they look like one of the best live bands on the planet. Go and make this band part of your life.
More Music Awesomeness: Obama Sings Daft Punk
[yframe url='http://www.youtube.com/watch?v=dEEOz8CAlQg']