A long time ago we used to run a feature on Sick Chirpse called the Punk Rock Playlist but it didn't really take off and we kinda got rid of it. I've been talking to timw_brap a lot about it though and my interview with Gnarwolves went down pretty well so I thought I would try and bring it back.  If you want to check out the old Punk Rock Playlists then the links are below:
OK now let's get going with number three. First up is a band called Masked Intruder who are pictured above and who we also ran into when we recently visited the Groezrock festival in Belgium. Mostly, they like to sing songs about love… which for them involves a lot of brandishing knives and breaking into houses apparently. Even though it's pretty easy to write off a band that wears masks and has a whole 'secret identity' going on, these guys somehow manage to pull it off and write hilarious songs that are also fast, melodic sing a long anthems. I got to see them at their first ever UK show a few weeks back and they completely killed it. Check out '25 to Life' here, it's about the similarities between love and a prison sentence… of course.
[yframe url='http://www.youtube.com/watch?v=GKesF6gX-bo']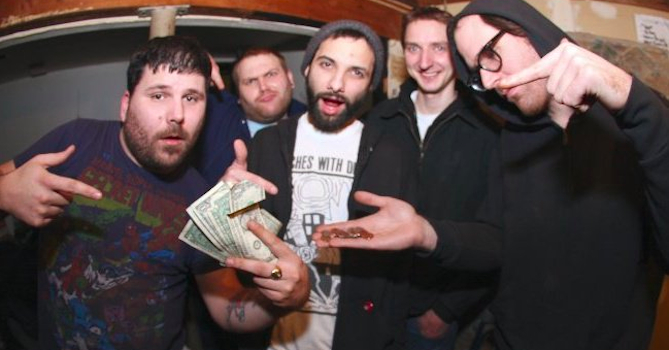 Next is this band called Iron Chic. I don't know much about this band except that a couple of them used to be in Latterman, but I heard they were playing not far from me and even though I was gladly nursing my hangover with way too much FIFA for one day and the prospect of the Real Madrid v Borussia Dortmund match, I dragged myself out of bed to get down to the show. Unshowered and back into the same clothes I wore during the previous nights antics, I decided a few more drinks and some New York punk rock couldn't hurt. They were completely sick and played melodic gruff singalong anthems – very similar to Latterman but probably a bit gruffer and tougher, if that's possible.  Check out 'Time Keeps on Slipping into the (Cosmic) Future,' here.
[yframe url='http://www.youtube.com/watch?v=9sQIRHxogF0′]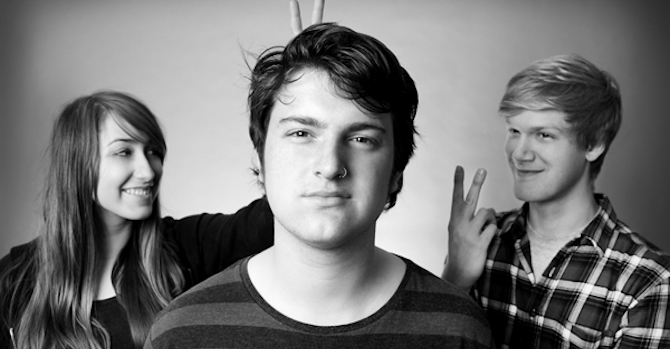 I was at the Bristol date of Hit The Deck Festival recently, too, where I got to see these guys, Great Cynics, play on the Thekla, which by the way is a fucking boat. I know they featured in the punk rock playlist before – back when they were just called Cynics – but whatever, it's been two years and they're still good, plus their new album just came out like two weeks ago. It's anthemic punk rock with a growl in the style of early Against Me!/Fake Problems/Billy Bragg/The Hold Steady.  Check out 'Back to Hackney' below.
☛ We Sure Do Love The Thekla: We Went To See Baauer On The Same Boat And It Was Mental
 [yframe url='http://www.youtube.com/watch?v=PnmefN0dV4s']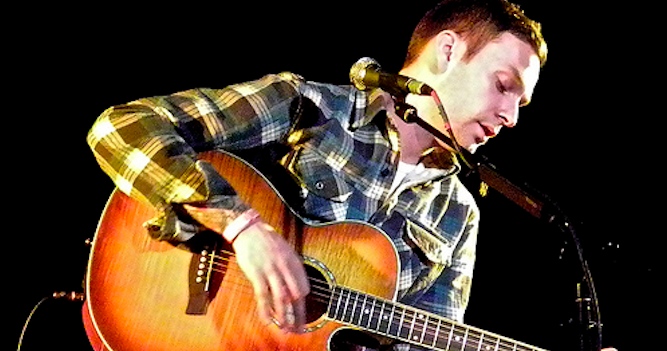 I also was pumped to be able to see Vinnie Caruana while aboard the Thekla. He's probably most famous for his bands The Movielife and I Am The Avalanche, but he's also pursuing a solo career as well now, having just released his first EP. I got talking to him and he's a pretty safe dude. He's from Long Island, New York and is the kind of guy to get a jug of beer, a skull wearing a New York Mets cap (being stabbed through the eye) and a pile of tacos stuffed in a mailbox all tattooed on his arm on the same day – cause why not huh? Yeah, he's got some pretty cool stories. Despite his love for Liverpool FC, and my burning hatred for them as an Everton fan, I still dig his music. Check out his solo punk-acoustic effort 'Somehow The World Keeps Turning.'
[yframe url='http://www.youtube.com/watch?v=AwR42TBIwD0′]