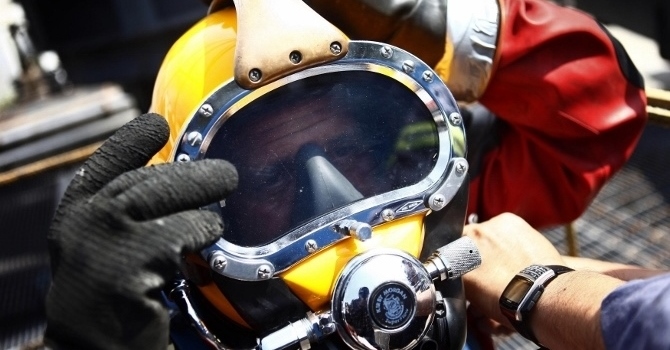 Some people are crazy. I like it that way, if everyone was normal then the world would be really mundane and uneventful and there'd be nothing good to write about. Instead of writing about stuff like this, I'd probably be writing about really exciting things like the national cabbage-growing championship or the annual cow-milking contest or how efficient specific potatoes are when they're being prepared to be used as crisps etc. Riveting, see? If there were no crazies, Sick Chirpse wouldn't exist and you'd all be stuck reading something like The Telegraph or The Guardian or something just as boring and you'd all be dying an even slower, longer and more tedious death.
☛ More Boring Stuff: Most Boring Sport Ever – The National Ploughing Matches
So, yeah, I like crazy people for a number of reasons and this guy is one of the crazy squad which means I like him, too, but I really don't like his job. The majority of us have worked in places we've hated (takeaways, call centres, supermarkets, brothels, CIA, factories, offices etc) but a lot of us have stayed in the job and just got on with it simply because of the money.
You hear: 'Oh, man, another shit day in work tomorrow – I hate the place – but I gotta go for the money,' almost as much as you hear about OAP telly 'celebrities' being done for paedophilia and you just want that person to shut up and leave their job if they're not happy because complaining about stuff can get really annoying.
☛ Even Footballers Have Had Rubbish Jobs: Footballers' Part Time Jobs
But this guy did do something about it. He hated his job and left to get one that he wanted really bad. His previous job was an accountant and we all know that accountants earn decent £ and even if you hated the job you'd probably stop moaning and get on with it because you could hire a call-girl every night and not have to worry about lubing up a flannel. But he didn't care about the money and is obviously all about self-fulfillment, which is pretty cool, as there's not many of us left like that and the majority of the world is full of grabbers.
☛ More Greed: Girl Eats 5,000 Calories A Day In Bid To Become BBW Superstar; Makes Us Wanna Puke
His name is Julio Cu Camara, he's 52 and his job – now – is as a sewer diver in Mexico City. If you dunno about Mexico City then you need to know this. The sewage there is one of the world's most toxic and filthiest. Camara's gone from being in a 9-5 suit and tie to a random hours diving suit job, in which he's lowered into shit.
His main job role is to check on the pipes of the Mexico City drainage system which takes a battering but while he checks on the pipes he regularly comes across things like dead animals, dumped cars, used condoms and human shit and other disgusting stuff. He swims in cholera and typhoid. He is crazy. I couldn't do the job. Check him out in action:
[yframe url='http://www.youtube.com/watch?v=hzniL-ZC8ks']