Remember back in October when a pub renamed itself as 'The Three Bellends' after Merseyside was placed in the very high bracket of the three tier system?
Images VIA 
I'm gonna be honest I only vaguely remember it because it really does seem like such a long time ago and there have been so many dumb rules and systems implemented since then, but with the latest news that our return to freedom is going to be delayed by a month the guys at 'The James Atherton' are at it again. Now that Dominic Cummings is out of the picture in Downing Street, the guys have decided to rebrand the pub as 'The Two Helmets' – obviously referring to Matt Hancock and Boris Johnson.
There's some new artwork as well with owner Dan Davies saying the following about the decision: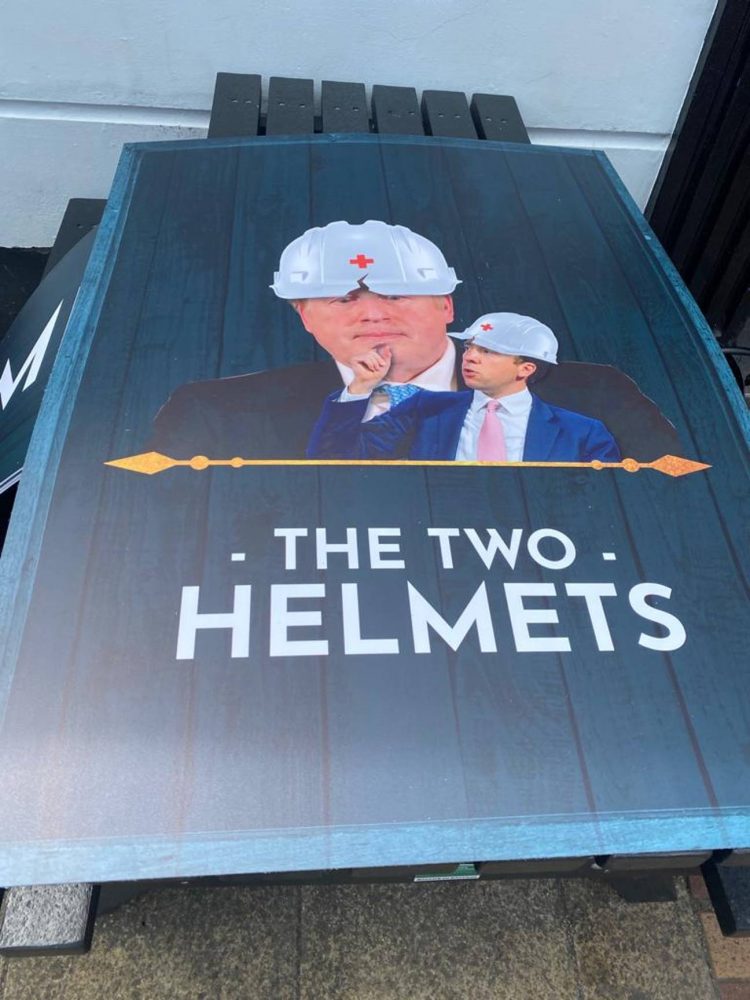 After yesterday's train wreck of an update, we decided that we're gonna do it again.

Because yet again, we've had to cancel dos that are on here, particular nights that we're doing. And you know, the wedding industry is decimated, the nightclub sector's decimated, you've got festivals – they're decimated.

People have laid out a lot of money. People have made plans – whether it's holidays or festivals – all these sorts of things, every time you buy more stock, you just get kicked in the teeth by this pair of helmets.

The designers did it for nothing, the sign-writers have done it for nothing, we had some scaffolding ourselves and then some local builders who were just sat in the pub said, 'Right, we'll help.

Everyone's just coming together really, it's cost us nothing to do, but it's just important to really reflect the mood of the people.

We shouldn't have our freedom of speech shut – we've had just about every other liberty taken away from us over the last 12 months.

We're a public house, like many, we're fighting for the survival of our business.

They just have such an attitude of, I mean look at the G7, they're all hugging each other and things, getting on the tube, everyone's there.

The hospitality sector has been singled out.
Yeah that must be shit for them, but I'm surprised that they even thought that it was going to happen given how inept the government response has been and how they've literally doubled back on every single promise that they've made throughout the whole of the pandemic. Seems kind of dumb to have planned so much in when it quite clearly probably wasn't going to happen.
Still funny that this is their response though. Let's hope that they don't have to do it again in a few weeks/months hey? Wouldn't put it past it happening again with these clowns in charge, would you?
For more of the same, check out this super thread of Matt Hancock being really weird. Seriously disturbing viewing.