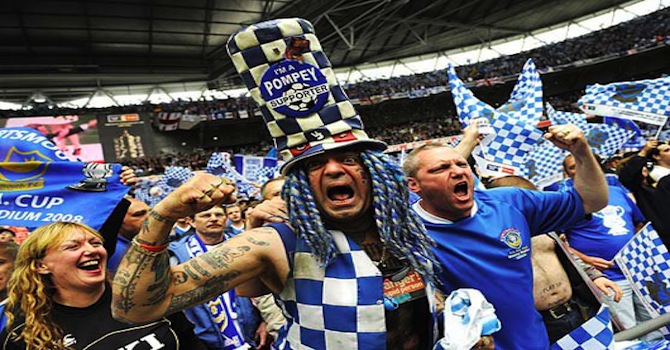 Portsmouth Football Club haven't had much to be happy about over the last few years. After winning the FA Cup in 2008, fans of the seaside club have winced, grimaced and probably stopped supporting the club as they've slipped further and further down the Football League, providing football fans up and down the country with someone to have a good communal laugh at along the way.
Finally though those who have stuck by the club have something to make them smile and, as luck would have it, it's at the expense of their bitter rivals; Southampton Football Club.
'John Portsmouth Football Club Westwood' (the guy with the massive top hat who is constantly banging a drum at any Pompey game and yes, that is his real name) was the club's most notorious fan, until now. Southampton FC recently started development on new facilities for their Marchwood training ground and it's two of the contractors hired by the club that will go down in Pompey folklore as the ultimate fans.
The video below shows how the crafty builders planted a Portsmouth FC shirt and scarf inside the walls of one of the buildings currently being built at the training ground.
[yframe url='http://www.youtube.com/watch?v=rh0BUNIZwRM']
Fairplay to the two or however many it took to come up with the idea, it's a decent and creative prank. The only problem is the cameraman seems to give a perfectly guided tour of where they are and, more importantly, the whereabouts of the otherwise perfectly hidden bounty. It shouldn't take too long for the video to gain popularity on YouTube and for Southampton FC officials to be informed. I'm guessing soon after they've been made aware of what's happened they'll be taking a trip down to Marchwood, getting rid of the shirt and scarf and sniffing out the wise guys who planted it and promptly giving them the sack.
☛ More Football:
Brazilian Football Fans Decapitate Referee After He Stabs Player
How To Survive When The Football Season Ends
Civic Minded Football Hooligans In Hull