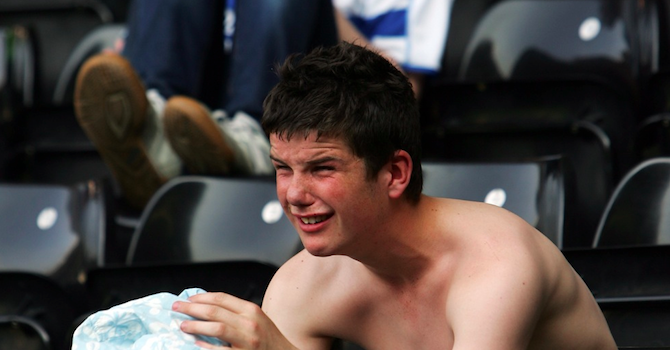 Unless you're a fan who still has something to look forward to like the playoffs or the hope of a top four PL finish only to see your club get their arse absolutely handed to them when they actually enter the Champions League then you're probably feeling a little empty right about now. This will soon turn to a sense of utter dread as it dawns you'll need to endure 13 WHOLE WEEKS with no football at all whilst finding something else to fill your god-forsaken weekends with.
You know that feeling you get when there's an international break coming up? You know, the ones where you're forced to suffer England scraping a draw in some backwards third-world spec in Eastern Europe when you'd much rather be watching your club? Well it's like that. Repeated. Countless times… without any actual football.
Yup, life has come to this. You work in a shitty office all week looking forward to watching 11 blokes who probably couldn't find your city on a map before they signed trying to win a football match so that you can feel good about yourself for a bit. Soon you find one depressing Monday morning merging into the next with absolutely nothing of substance happening in-between and you just feel like GIVING UP AND ENDING IT ALL. (*Some descriptions exaggerated for dramatic effect).
So, what can you do to pass the time until August? Here's a fairly shoddily assembled list to help fill the quite massive void…
1. Arrange A Fake Away Day
Missing those away days? Arrange a 'fake' one. Let's face it, you're usually so out of it by 3PM due to the six-pack you had on the train and the round of Jägerbombs you necked in Wetherspoons the match is always a bit of a blur anyway. So get to the next city, get on the beers with your buddies and challenge a local to an arm wrestle or something, for bragging rights.
2. Re-create Sky Sports News At Your Local Ladbrokes
For those stay-at-homes that are suffering inevitable withdrawal from Jeff and the boys why not recreate your own version of Soccer Saturday? It turns out listening to someone who's barely grasped the basics of his native language describe the action (Merson) is actually more entertaining than watching it for yourself. To hear incompetent rambling on various other forms of live action get down to Ladbrokes mid-afternoon Saturday, sit back and enjoy the ride.
3. Do Some Random Betting
Speaking of the bookies, you're going to really miss those footy accumulators. Find more inventive ways of losing your money like betting on something equally impossible to predict. I kid you not there's a sport listed on Bet 365 called 'trotting', I literally have no idea what that is but it is almost certainly worth a punt.
4. Play Football
You can still PLAY football, there's no law against that goddammit. Most teams usually release their new kits pretty early in the closed season. Be sure to pre-order yours and get down the local 5-a-side with the other full kit wankers ASAP.
5. Visit The Empty Stadium
Season ticket holder? You're probably missing the familiar slog to the stadium by week three. Ease your woes by hiring a box for a summer session, chatting up the blonde in the megastore or standing forlornly outside the gates hoping to get your twattish face on Sky Sports News whenever something significant happens. If you support Man Utd then you're fucked on this one.
6. Go On Holiday
Take your mind off things and book a holiday somewhere where football either has no part in the population's culture or they have a very rudimentary understanding of it. If you can't get any flights to Middle Earth then you'll probably have to settle for America.
7. Watch The F1
The F1 is still on you know, that should provide at least a couple of minutes excitement over three whole months.
8. Stick Fifa On
Lock yourself in a dark room and play FIFA non-stop for the entire summer.
9. Call Geoff
Call Geoff Shreeves and tell him you're in bed with his wife.
10. This Is Getting Depressing
The Emirates Cup is happening; Arsenal fans you might actually be in contention for this trophy so pencil that one in the diary.
OK, running a bit thin at the end and on reflection not much use at all… at least it killed five minutes. See you next season.
☛ Next: How To Become A DJ Slut In 5 Simple Steps