Cheating is not an art form generally appreciated by the English when it comes to sport. I remember seeing a documentary about Diego Maradona wherein various Argie journalists referred to the infamous "Hand of God" as being not all that bad, and moreover none of them seemed to show the slightest bit of pity for the English.
The Argentinian newspaper Cronica said at the time that "…he who robs a thief has a hundred years of pardon". Now this may have been partly just because Cronica was trying to stir up a furore regarding the conflict surrounding the Falklands, but nevertheless even as someone who wasn't alive at the time this act of flagrant cozening still makes me feel sick to the stomach.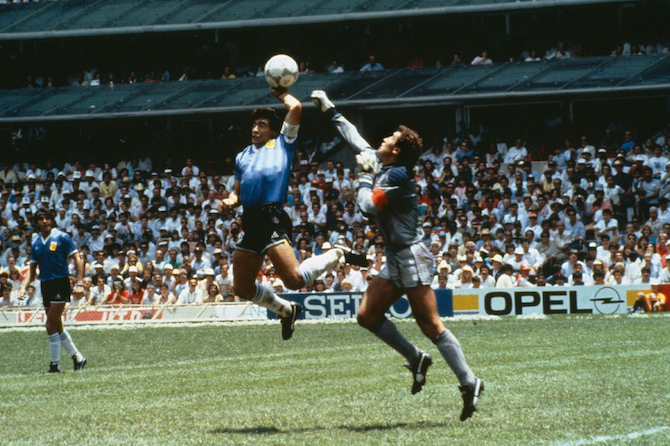 However, in spite of my derisory attitude towards those who do feel the need to cheat, a special place in my heart has been reserved for the Nigerian football teams Plateau United Feeders and Police Machine FC. Both teams were battling hard for promotion to the fifth-tier of Nigerian football and were currently locked on points meaning that only goal difference separated the two.
The half-time scores were, frankly, somewhat suspicious as Plateau United led 7-0 against Akurba FC, and the Police Machine was certainly in gear as they led by 6 goals to nil against Bubayaro FC. It should be stressed at this point that these scores, while unlikely, are not out of the realms of possibility and one would expect two teams pushing for promotion to be winning convincingly against most other sides. But then it got crazy.
By the final whistle Police Machine had knocked in another 61 goals making the final score 67-0. Alas, this was not enough to secure promotion as astonishingly Plateau United had managed to find the back of the net on a further 72 occasions, leaving them with a final score of 79-0.
Now unless both teams had managed to find someone with Jakubikian levels of awesome, there had to have been some form of match fixing going on here. All four teams involved were immediately suspended from the league by the Nigerian Football Federation who remarked that this was a "…mind-boggling show of shame, never previously witnessed in Nigerian football".
☛ Don't Know About 9 Year Old Patrik Jakubik? Check Out This Video – His Skills Will Blow Your Mind 
The details of this saga make it all the more hilarious. Apparently each team had posted spies at the ground of the other so that they could be kept updated on the score. The Financial Times reported that defenders began scoring copious amounts of own goals and officials from each club were acting as ball-boys to ferry the ball back to the centre circle after each goal was scored.
One of the teams owners has since disbanded the club citing that he was disappointed at how easily some people would be willing to bring the game into disrepute. No official verdict has been returned yet, but it is safe to say that this may not be a scandal worthy of a huge amount of effort on behalf of the investigators.
I do wonder if there was any point at which either team thought they would genuinely get away with this. It must have been one of those all-seeing moments where everything becomes clear. This was probably around the same time that the manager realised that Bruce Wayne was ALSO Batman.
Match fixing is hardly uncommon in Nigeria, and African football has had its fair share of controversy. Around 10 years ago a Malagasy team ended up on the end of a 149-0 rout having decided to score own goals continuously in protest at a refereeing decision.
That being said, corruption has certainly never been seen on such a ludicrous scale. "Go hard or go home" is an expression commonly applied to football although usually not to this aspect of it. Therefore I tip my hat to these Nigerian teams who show that if you are going to cheat, you might as well do it right, and in comparison Maradona looks even smaller than he did before.
☛ More Cheating In Football:
Brazilian Fans Decapitate Referee After He Fatally Stabs Player 
Is This The Worst Leg Break In Football History? 
Romanian Football Match Called Off After Fan Punches Player