I'm not really sure if anyone really cares about New Found Glory any more, considering they were probably at their biggest in 2002 but apparently they can still play pretty big venues over here judging by their November tour dates so they must have made a lasting impression on a generation.
I'm sure that some of these people were pretty gutted when the band decided to kick out guitarist Steve Klein after 15 years of playing with them in December, but I doubt anyone else really batted an eyelid. I mean they would still be able to play all those old songs, it's not like anyone is actually bothered about new material from them is it?
At the time, NFG released the following fairly wishy washy statement that didn't really mean anything and didn't go into any detail about why Klein had been kicked out of the band:
'To All Our Fans,
It is with heavy hearts that we must let you know that Steve Klein is no longer a part of New Found Glory. We've had our differences with Steve over the years that have led us to this decision. We love Steve however personal differences have guided this decision and we no longer feel we can work with him. Rest assured that New Found Glory will still go on! After the Parahoy Cruise we are planning to write a new record and start this new chapter for our band. We have not decided on who will fill Steve's position however we will let you know our plans as soon as we figure that out. We love you, our fans, so much and appreciate your dedication and loyalty to our band. We hope you stick by us during this difficult time.
We love you,
Chad, Jordan, Cyrus, and Ian'
☛ More Paedophiles: Prosthetic Leg Mistaken For Paedophile At Swimming Pool; Causes Evacuation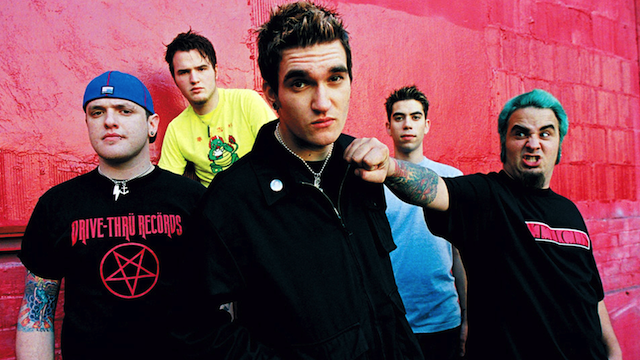 Fast forward to today and it's been revealed that Steve Klein was kicked out of the band a day after he appeared in a San Luis Obispo court (what?) on several misdemeanour charges: two counts of lewd conduct with a minor under the age of 14, three counts of lewd conduct with a minor 14 or 15, one count of intent to commit lewd act with a minor, and one count of possession of child pornography. Not good.
Klein pled not guilty to these charges but it's probably not looking too good for him right now, especially now the whole world knows that he used his status as a pop punk heavyweight to illicit blow jobs off underage girls. And with these things they don't normally go to trial unless there's a good deal of evidence to back it up.
Whilst this isn't exactly the level of Ian Watkins' depravity, it's still an abuse of trust and completely wrong and uncool and the band 100% did the right thing kicking him out.
Hopefully he'll go down on his next court date, which is coming up next week on March 20th, followed by a final date on April 10th. Here's a picture of his arraignment document:
☛ More Paedophiles: Morrisey Compares Paedophilia And The Holocaust To Eating Meat