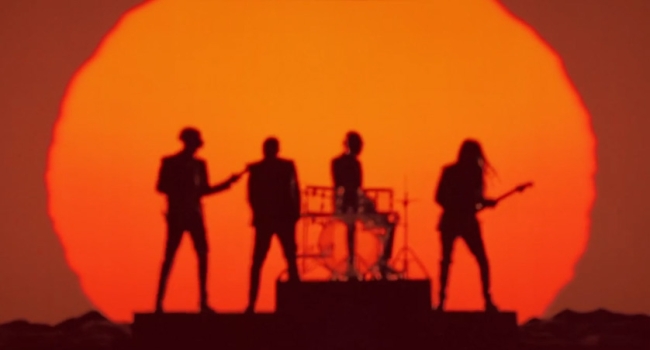 Daftmania is rapidly approaching levels of Beatles-esque hysterics here on Planet Earth and we here at Sick Chirpse have been thoroughly enjoying the ride. For the last couple of weeks the Internet has been going completely crackers as it is fed slivers of music and information on a drip-feed. The orgasmic climax of all this activity will be the album Random Access Memories, released worldwide on May 21. And now we have gotten all the way to third base as the first track off the album, Get Lucky, is released TOMORROW. Earlier this week, a Dutch radio station played the radio edit in its entirety. Get lucky, indeed;
[yframe url='http://www.youtube.com/watch?v=MJgn4x3nPFo']
☛ This Guy Would Have Liked It Too: The Coachella Rave Dad
It's a cute little video all by itself. Watch how the DJ is all excited at the prospect of playing the track and is in a state of near-disbelief ("The fuckin' premiere, man! Jesus!" he exclaims in his native tongue at one point) before hitting play and gradually getting more and more into it until he's bopping around the studio and air-singing along. "What a hit!" he exclaims afterwards. "What.A. Hit!" Hooray!
The internet has been awash in recent weeks with various fake Daft Punk tracks and audio hoaxes but the consensus seems to be that the song that 3FM played is the real deal. The DJ writes in the YouTube comments that while on air he even got phone-calls and text messages from the record company asking him how he got his hands on it. Naughty!
Bona fide or not (and it most likely is), it's a great track; a fun, sparkly disco anthem with just enough 21st century polish on it to stop it sounding entirely like some redundant 70s throwback.  Pharrell nails the vocals and that chorus is like audio herpes. You can look forward to having the earworm of "We're up all night to get lucky, we're up all night to get lucky, we're up all night to get lucky" embedded firmly in your brain for weeks to come.
☛ More Daft Punk Shenanigans: The Band Will Release Their Album At An Australian Farming Festival
It's also great to hear a track from arguably the biggest dance act in the world that's completely different from anything else going on right now. There aren't any attempts to shove in a dubstep drop or a celebrity cameo from A$AP Rocky. Listening to this song is a breath of fresh air, a reminder to abandon any pretence of looking cool or moody and to simply have fun on the dance-floor. This is music that makes me want to smile and dance around my bedroom and go out with my friends.
What the rest of Random Access Memories will sound like is anyone's guess. A series of YouTube videos have been put up over the last few weeks, featuring interviews with the musicians Daft Punk have collaborated with on the album. The vibe is apparently all about going back to live instruments and analogue recording while invoking the spirit of 70s classic rock and disco. Legendary US house music pioneer Todd Edwards, who worked on the record,  said that it will "change music". Crikey.
In the meantime, we're more than happy to have this song to tide us over until May 21. It's just a shame we can't afford a plane ticket to Australia. Leave any donations in the comments below.
☛  Something Else We Can't Wait For (But Will Have To): The New Superman Film