Some people have been giving Conor McGregor a lot of crap following his defeat to Nate Diaz on Saturday night. Rafael Dos Anjos went as far to say that he 'lacked heart' and got 'exposed' at the fight.
But now the sword has turned on Nate Diaz but it has come from possibly one of the least worthy commenters possible — Justin Bieber. Not really sure why he decided it would be a good idea to publicly slate Diaz's style, especially when he won, but Bieber did it anyway when he took to Instagram to post the following: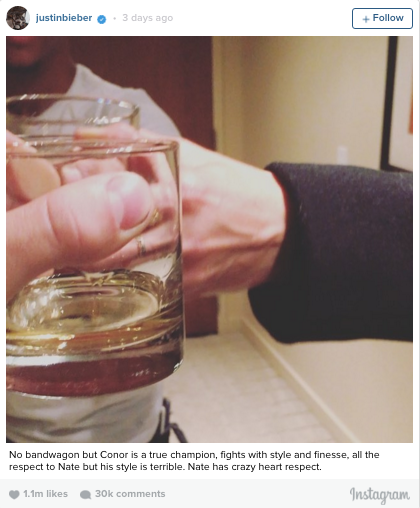 OK, so he does offer respect, but he also calls Diaz's style 'terrible'. He was the underdog dude — don't slate the underdog. He also posted this picture of McGregor after his defeat:
Rightly so Diaz was having none of it — instead of just ignoring it as some dumbass popstar's dumbass comments, he decided to post a response which most definitely puts Bieber back in the baby seat: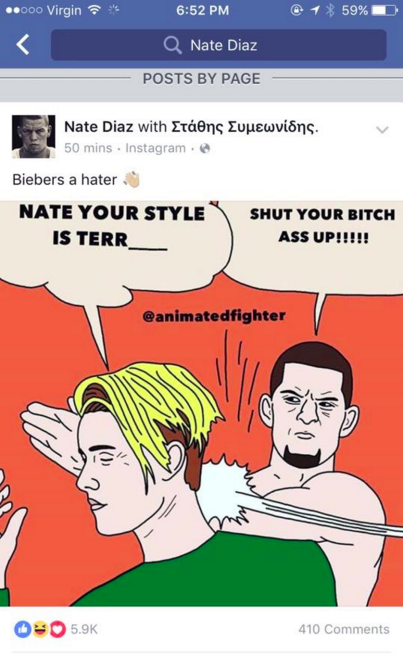 Lol. I wonder if this could turn into a social media feud? Hell, maybe Diaz will challenge Bieber in his next fight. Now that would be a match I would want to see. Maybe Ronda Rousey would want a piece of the action as well.