We talked about how a man set to wed a My Little Pony character had written an extensive email to another man who liked to draw pornographic images of My Little Pony characters asking him to take them down off the internet because they offended them, but I had no idea that people like My Little Pony so much that there was actually a yearly My Little Pony Convention. The video highlights of it really are something else.
I'm not really sure what anything depicted in these videos actually has to do with My Little Pony because it looks more just like a really weird awkward rave in the function room of some hotel (I think my favourite part about the whole video might be the way all the chairs in the room are pushed up against the stage to create the kind of lame barrier you might see at a 6 year old's birthday party) full of cosplaying weirdoes of all shapes and forms and really weird music that I just do not understand at all. I guess if you like My Little Pony enough to go to a convention then you're going to be a weirdo, but it's just so surprising to see them all in one place you know?
I don't really understand why it's a rave (it's A My Little Pony Convention, why the hell is it a rave?) and why they've got these people to appear there either. There doesn't seem to be any common factor in any of the performances in the highlights video below, especially when they randomly get some guy out to play speed guitar halfway through one of them. I guess they're all completely weird but that seems like a bit too leftfield of a unifying option to get them performing at the same event – it's the only thing I can think of though.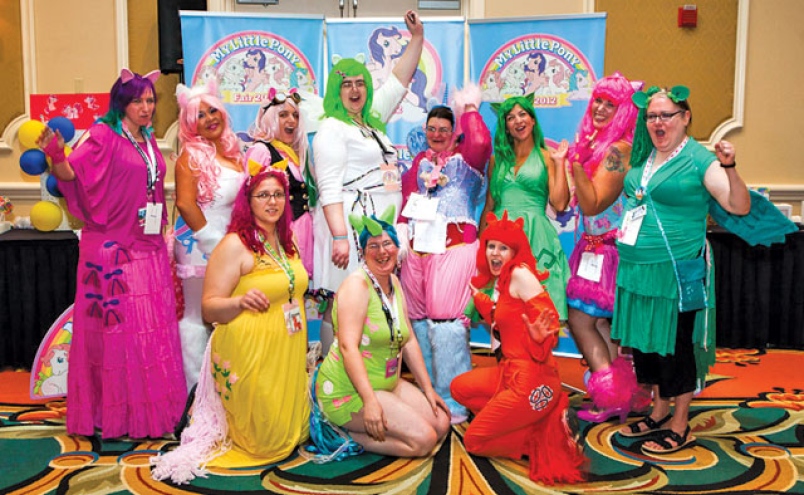 After doing a little bit of research into the event I still don't understand it at all, but it seems like this is the closing party to a My Little Pony convention which happens every year. The My Little Pony convention is actually called the Fiesta Equestria and takes place in Houston every year and aims to be 'the premiere My Little Pony Convention in the Southern United States' and gathers the most avid enthusiasts of the 80's toys (who are called Bronies – sadly not short for Jabroni) in one place for a weekend of revelry.
The final rave of the weekend (not sure if there are more than one or not, let's hope so though) is known as the Pon3techtronica party (nope, no idea what that means) and is four hours worth of a dubstep/electro/hardstyle dance party and this year it featured music from Mic The Mic, Odyssey Eurobeat, F3nning and djtetsuo and it did actually take place in a hotel function room as I originally surmised. It was the Marriott in Houston FYI. I haven't got a clue who any of those artists are but if you look at the highlight reel they seem to be going down pretty well with all the Bronies in the house. I can't really comment on the music as it isn't really my jam but it sounds pretty terrible to me.
The first two videos are shorter highlight videos – both of them have different content although some of it is overlapping so it's worth watching both – but for some reason someone decided to film the entire four hour event and I've included that below this as well. I haven't watched all that but I thought someone might have fancied picking up an 8th and watching it all the way through. If you bother watching it let us know in the comments where the good parts are.
Highlights of the highlight videos include: A DJ hardstying so hard he knocks some important looking guy with a laptop (who actually turns out to be one of the later DJ's) off the stage; technical difficulties; one DJ advertising the first ever Canadian My Little Pony Convention; a guy rapping about magicians; the organiser telling off the crowd for throwing their glowsticks around and causing a liability issue (LOL) and the organiser doing the kind of speech you probably only hear at the Oscars to finish it off. Only at the My Little Pony convention I guess.
☛ More Weird Raves:
The Coachella Rave Dad Is Probably The Best Thing About Coachella This Year