Men get it pretty rough when it comes to every day office wear. Unless your place of work is fairly casual on the uniform front then you're stuck with the only option of a smart shirt tucked into some smart trousers with smart shoes and a smart jacket. You filthy suit wanker.
It's not exactly the most comfortable option either but unless you're a professional mattress tester then nobody will expect their employer to list cosy outfits as a high priority. At least you won't be forced to wear heeled death traps on your feet like the unfortunate women in your workplace, but otherwise they definitely seem to have it better in terms of styling variations.
Though there are a few tricks you can count on to get yourself noticed at work, the secret is to stand out without disobeying the rules. Here are eight ways we came up with to stick it to the man in your everyday working outfit.
Pop Your Collar
Remember back in school when a fat tie and a popped collar singled you out as the ultimate bad boy? Well this can be translated into your work life too. Let everyone know you're the coolest guy by the kettle by undoing your top button and letting your collar reach new heights. You can bet this look will also raise a few eyebrows but totally in a good way. Probably.
Statement Shoes
A great statement shoe is a great finishing touch to an outfit that's bound to get you noticed. Do you only own one pair of emergency smart shoes or a basic collection of trainers? Are you in need of inspiration? Well make sure to check out the extensive collection of unique footwear at the Met Museum in New York. They potentially have the largest number of unusual shoes we have ever seen in once place. If your colleagues don't take too well to your new kicks then at least you'll be mostly sat with your feet under a desk all day.
Coloured Contacts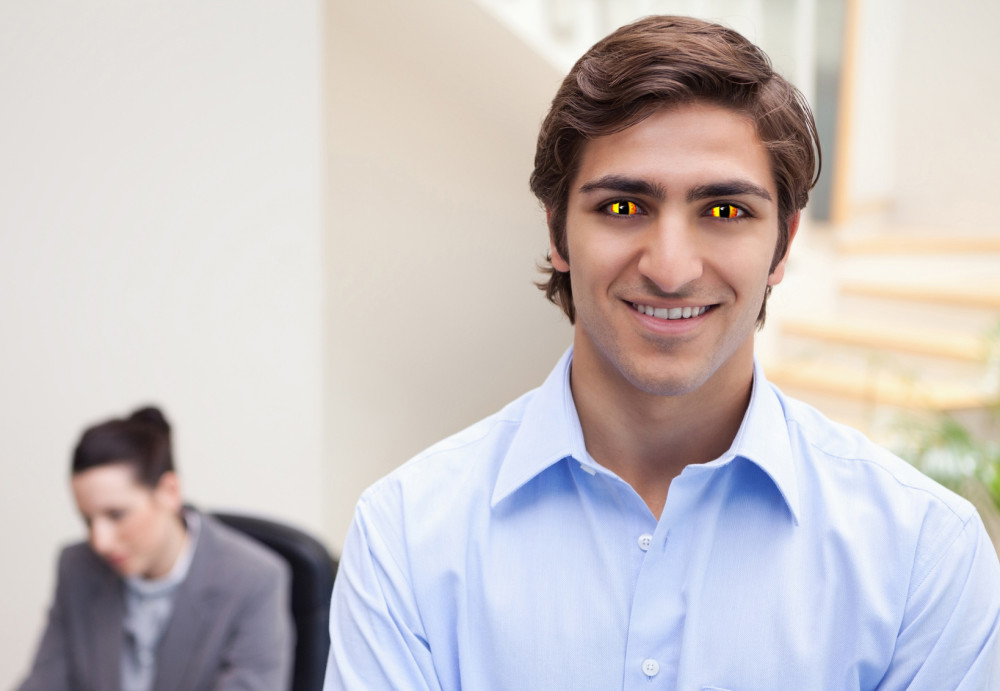 Some say that eyes are the windows to your soul but if you're the office dickhead then maybe it's best that you don't let anyone see them. Coloured contacts come in a wide range of designs and our favourites include cat eyes, full blackout and Union Jacks for when you're feeling particularly patriotic.
You could have different eyes to match your mood if you wanted to but maybe don't do this unless you have a decent enough salary as it could get quite pricey. Jumping straight into the quirky contact trend may seem a little daunting but you can always jump into the shallow end by opting for a basic brown (or a blue if that's already too much like your natural colour).
Lip Tattoos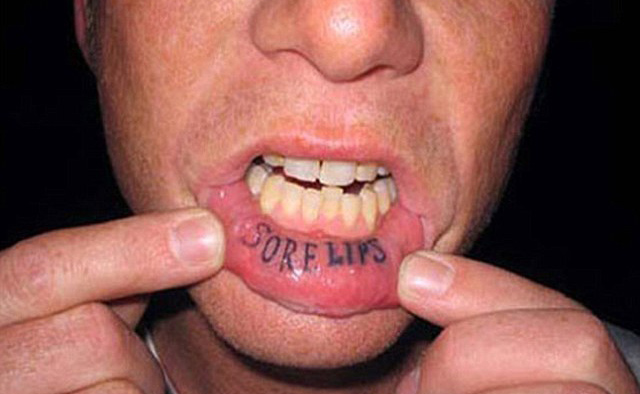 Bonus points if you get a swear word that you can secretly whip out every time your boss has been a complete asshole. A lot of workplaces don't allow for visible tattoos but fortunately you can only ever see inner lip ink if you're pouting like an upset child.
Skin on the inside of your mouth heals super quickly too so if you ever change your mind then it won't be on your body forever like other tats. Trouble is, they can quite easily get infected but if you're a genuine fashionista then you could definitely turn a big read mouth into your new look instead.
An Eye Catching Hat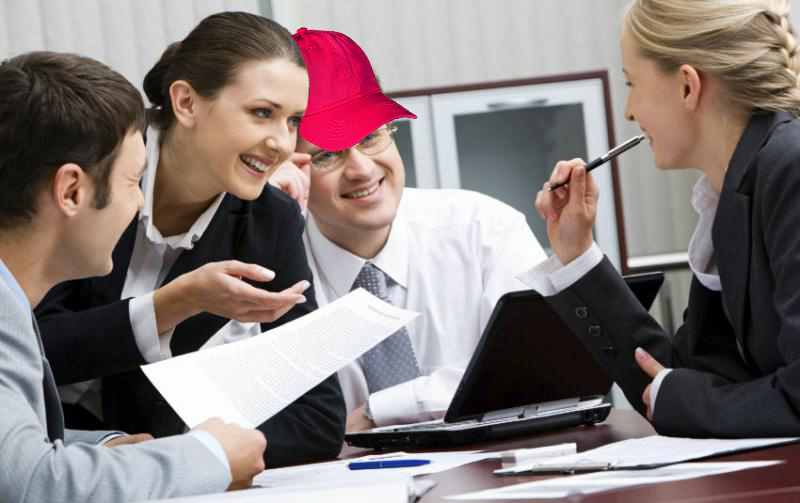 Incorporate a stylish hat into your everyday workwear to get those heads turning. Have you ever noticed how kids wearing a backwards cap in films are always the cool guys? It's a universal fact that a sick hat makes you look way more badass than you actually are. As long as you're not wearing a bucket hat in Manchester then pretty much all headgear goes.
Backwards Everything
Looking for something different that's not too much of a stretch away from your usual work outfit? Bring new life to your wardrobe by wearing everything backwards. Not only is it easy to prepare in the mornings compared to our other styling suggestions but this effective change will cost you absolutely nothing. You'll still be dressed smartly and your management may applaud you for having such a resourceful imagination. It's definitely a look that will turn heads.
In need of more styling tips? Then please consult our chief personal stylist – Menswear Dog.