Every few months 38-year-old Donald Murray from Indiana over in the US gets arrested for something stupid, and of course the internet remembers him every time because he's got a big dumb 'Crime Pays' tattoo on his forehead. 
Featured Image VIA
It was only last December that Murray got arrested following a high speed police chase (he was spotted driving without vehicle lights). This time… he's done the same thing again by sparking another high speed police chase. 
Via Fox 4:
An Indiana man with a "Crime Pays" tattoo on his forehead has been arrested after yet another police chase.

According to the Terre Haute Police Department, Donald Murray was charged with resisting law enforcement, reckless driving, possession of methamphetamine, maintaining a common nuisance and auto theft after the short pursuit Monday morning.
Whoops. Mr Crime Pays does it again, only this time he's got a load of meth on him. Well I mean he had to spice things up a little bit right? Can't just be going round committing the exact same crime over and over again, you've got mix it up a little bit.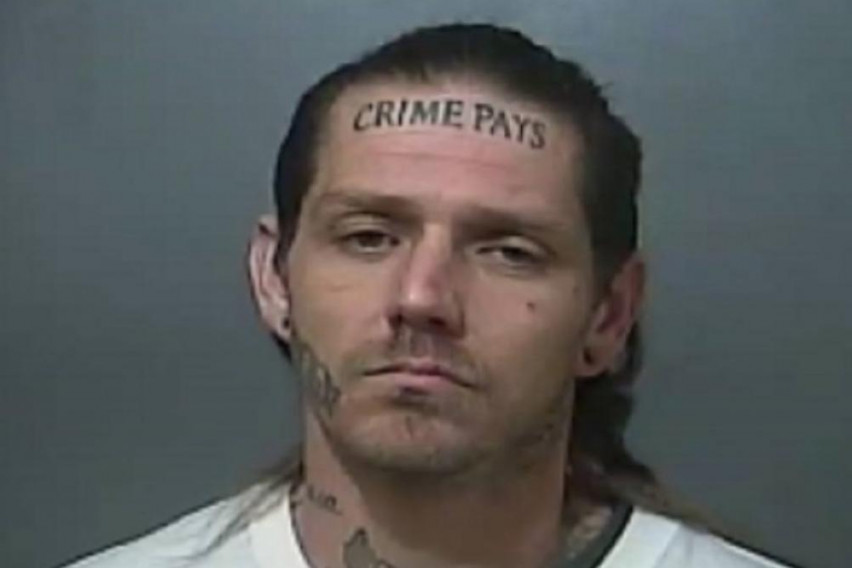 Chances are he'll be out on the streets again before long, looking to lead police on yet another chase with maybe some heroin wraps up his butt this time. Or maybe he'll smarten up and realise he's become a bit of an internet celebrity ala Jeremy Meeks? OK he might not be a looker but he's the 'Crime Pays' guy. Surely he can go on a few talk shows or do some meet and greets at the very least. It's 2020 – society has never been dumber and more willing to make people like this rich and famous. 
Start with an Instagram account and take it from there I reckon. Most importantly – stay out of trouble. You can't get away with it forever.