We have a new contender for all-time dumbest face tattoo as police search for this Indiana man wanted in connection to a high-speed chase.
Featured Image VIA
As you can see, Donald Murray, 38, has "Crime Pays" tattooed on his forehead, which means he's probably a prime suspect any time a crime is committed in his area.
According to the NY Post, Murray led police on a chase last Friday after he was spotted driving without any vehicle lights. He crashed the car into a tree before fleeing on foot, while a passenger who he left in the car told authorities he didn't know his name.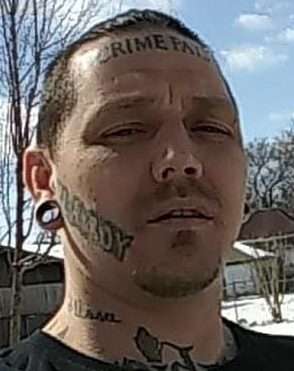 Murray now faces charges of criminal recklessness and resisting law enforcement, and surely with a stupid tattoo like that he won't be too hard to find. I want to know what the tattoo on his right cheek says as well but I doubt it's anywhere near as dumb as the one on his forehead.
The worst thing about the tattoo isn't even that it's positioned on his forehead – it's that it's not even a true statement. Unfortunately for Murray, no one told him that before he got the tattoo. He had to wait until he had his mugshot taken to figure it out: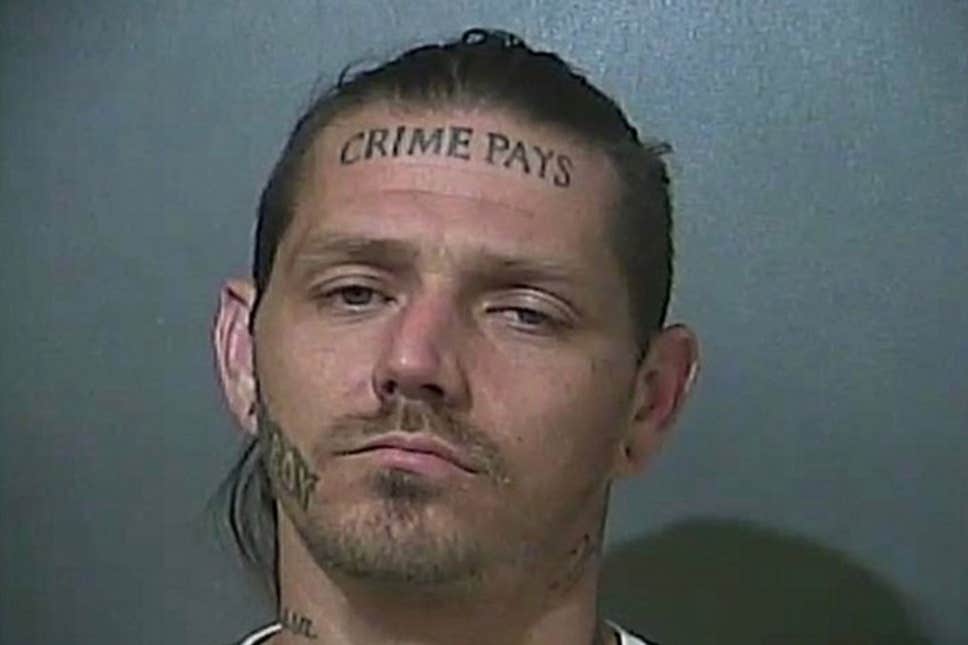 Will Donald Murray change his ways after yet another arrest? Even if he does, he still has that ridiculous tattoo on his forehead which means everyone will think he's guilty no matter what. It really makes you wonder about the moment he decided that tattoo was even a good idea. How high was he when he thought about it? Was the tattoo artist high as well?
Not as high as the artist who tattooed Rihanna on Aaron Carter's face I bet. Yikes.