IT worker James Howells, 36, began mining Bitcoin back in 2009 when it was basically worthless, and had stored 8,000 units on his PC by the time it was accidentally binned in 2013.
In the years since, the price of Bitcoin has gone flying and even with the recent price drops, James's bitcoin is still worth £156,378,866.87 (down from 230M when we initially wrote about him). Only problem is – it's buried under literal tons of waste in a landfill site in Newport.
Not only that, but after nine years of pleading with Newport City Council for permission to search the site – even offering them a £55m reward if he finds the hard drive – they still won't let him dig for the device, insisting they are bound by their licensing permit.
Well, Blockchain News has now revealed that James does at least have a plan in place as he continues to petition the council, and it involves $11 million in venture capital funding and the use of those terrifying Boston Dynamics robot dogs: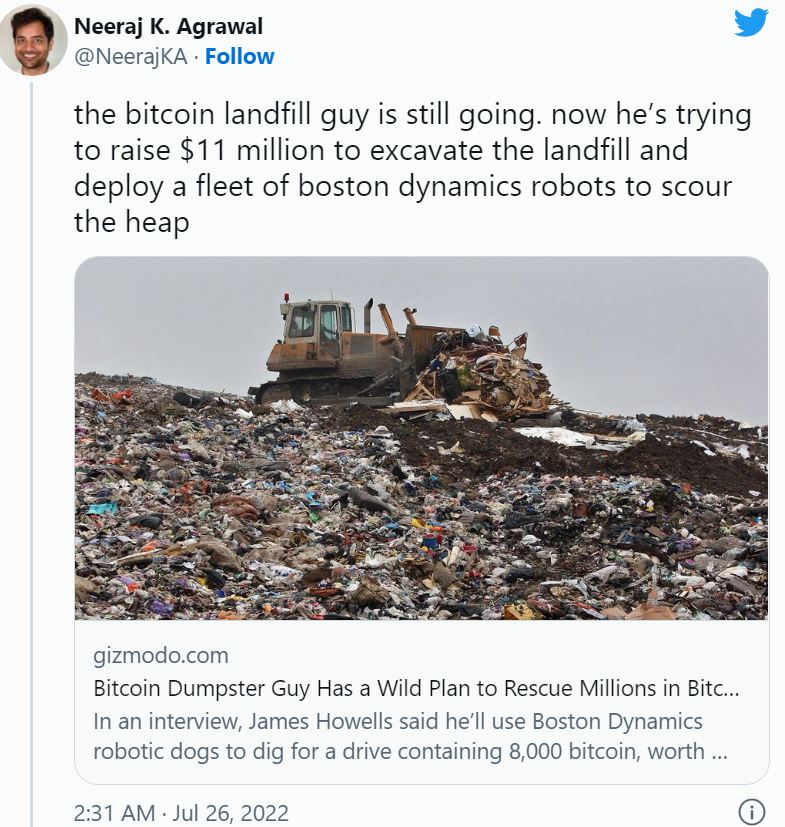 The investors that have promised the funds, including Hanspeter Jaberg and Karl Wendeborn, are not going to release them until Howells gets the City Council's approval to dig up the site. Jaberg says:
"It's obviously a needle in the haystack, and it's a very, very high-risk investment."
Howells will sift through the garbage with the help of human sorters, robot dogs, an AI-powered scanner that looks like a conveyor belt, and a group of data analysts that will be working with the team. Remember – there's 110,000 tons of rubbish at this site, and James tossed his hard drive out in 2013. Still, he reckons he'll know roughly where to look:
"The way the landfill operated in 2013 was when a general waste bin was full, it was given a serial number, it was dragged off to the open pit and it was buried. It was also given a grid reference number.

So what that means is, if I could access the landfill records, I could identify the week that I threw the hard drive away; I could identify the serial number of the bin that it was in; and then I could identify where the grid reference is located."
You might be wondering how a guy who puts all that time and effort into mining 80,000 bitcoin manages to accidentally throw it into landfill in the first place:
"I had two identical hard drives and I threw out the wrong one. I know I'm not the only person who has ever thrown out the wrong thing but it usually doesn't cost people over £200 million."
James truly believes that the hard drive will still be in good enough nick to retrieve the Bitcoins:
"There is no guarantee of that because of the environment it's been in but there are things that give me confidence.

The outside case might be rusted. But the inside disk, where the data is stored, there should be a good chance that it still works.

I believe there still will be a chance. But the longer this drags on though, it's less likely to be a possibility."
Well, sounds like he's got it all figured out. All he needs now is for Newport City Council to give him permission to search the site, which I'm amazed they haven't done already given the cash incentives he's offering them, and the cash incentives he could offer whoever gives the council their license, or whoever he has to pay off to make this happen.
I'm going to keep a close eye on this story because I need to know whether James ends up getting his Bitcoin back. Just give the guy a couple weeks and a few robot dogs and let him work his magic. Probably better use of those Boston Dynamic dogs than the lunatics who attached machine guns to them.