On last week's Pro Wrestling Flashback, we featured The Dudley Boyz powerbombing Mae Young through a table, and the comments on our Facebook page reminded us of another classic Attitude Era moment featuring Mae Young – the time she gave birth to a hand.
Featured Image VIA
At the time no one understood why this was happening other than to amuse the lunatic brain of Vince McMahon, who already had Mae flash her octogenarian tits on TV months earlier and also had her involved in a sexual relationship with the much younger Mark Henry. Anyway, this all culminated in a horrific scene where Mae Young went into childbirth live on RAW:
What the actual fuck, right?
Luckily I came across this explanation from wrestling journalist David Meltzer which includes a plausible theory as to what the whole point of the segment was:
Mae Young gave Crash (Holly) the worst big splash ever, and then went into labor. They had her backstage with an EMT, Patterson, Brisco, Henry and Moolah for this godawful segment that ended when they pulled a hand out of her. I had no idea what this was. Luckily I do a radio show and someone explained that hands were popular sex toys in the 70s and 80s for women and I guess the idea was she was getting herself off in another decade and it had been there for a while.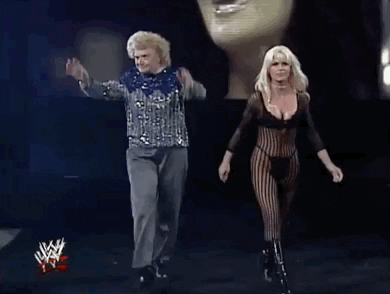 That explains it. Mae Young unfortunately passed away a few years back but it's pretty funny that after a successful career as one of the first female pro wrestlers the thing that she'll be remembered for most is giving birth to a hand on live TV. The stuff legends are made of for sure.
For more Pro Wrestling Flashbacks, click HERE.