We've talked about the fact that Macauley Culkin is now the frontman of a band called The Pizza Underground – which exclusively plays pizza themed Velvet Underground covers (sounds like a great idea) – on Sick Chirpse before but we weren't aware that he had actually decided to bring the band over to the UK for a short tour that started last week.
I mean if we had known about it we would have definitely wanted to go down and check it out, especially judging by these stories because it seemed like the majority of the audience absolutely hated them and only went down to abuse them and throw beers at them. Although this probably isn't how I would normally choose to spend my time at a gig, it would probably be way more fun than listening to Macauley Culkin sing Velvet Underground songs about pizza. I hate the Velvet Underground in case you were wondering.
Anyway, this happened at a couple of gigs over the past weekend and I'm not really sure why, other than assuming that it was just because The Pizza Underground are really really bad. It first happened in Manchester on Friday night where the band was playing at Zoo and were pelted with plastic glasses all night, until Culkin finally stormed off stage when a fan interrupted his kazoo solo. Moody. He eventually returned to try and finish off the gig, but the set had to be cut short when a bunch of people invaded the stage and refused to leave. Sounds like it got pretty raucous.
☛ More Home Alone: The Home Alone Cast – Where Are They Now?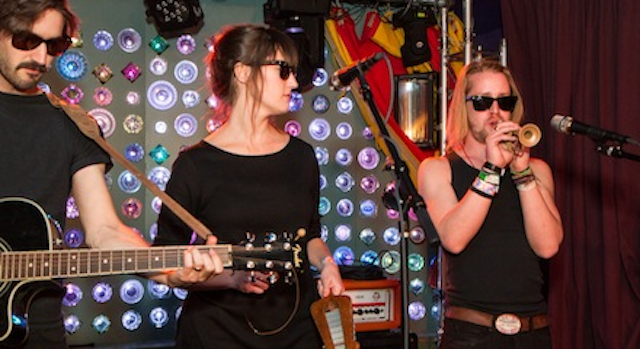 Unfortunately for Macauley though this wasn't the end of his problems and the scenario repeated itself in Nottingham on Sunday when The Pizza Underground were playing the Dot To Dot Festival. The band were pelted with full beers throughout their set and were forced to leave the stage after Culkin got smacked in the face with two full pint glasses. Ouch.
In fairness to him, he did try and diffuse the situation with a joke saying 'Why are you throwing those? I'd rather drink them,' but that wasn't enough to silence the rowdy Nottingham crowd who just ignored him and threw more beers at them. Nottingham is always a tough crowd.
Anyway it seems unlikely that Culkin will return with The Pizza Underground after these disasters of shows, so if watching the guy from Home Alone sing pizza related Velvet Underground covers is your thing then you had better try and catch him if there are still any tour dates left. I'll be staying at home myself though.
☛ More Pizza: Introducing The Pizzaburger