I'm not sure anyone in history has ever had more embarrassing Twitter gaffes than Lord Alan Sugar, but sure enough the 73-year-old tycoon put his foot in it again over the weekend.
Featured Image VIA
Lord Sugar had been watching the Arsenal Vs Chelsea FA Cup Final, which Ian Wright was providing punditry for on the BBC. At one point, Spurs fan Sugar Tweeted the following:

Oh dear. Is that Tweet necessarily racist? Maybe not, but you'd think Sugar would choose his words more carefully especially in the age of social media in 2020 where people's racism radars are on high alert. Not to mention other accusations of racism against Lord Sugar recently, and a separate racist Tweet he made years back comparing the Senegal football team to beach sellers. I mean surely when he typed out that Tweet about Ian Wright, the idea that it could be interpreted as racist crossed his mind?
Here's the fallout on Twitter:
I don't get the part: a bit too dark don't u think ??? What does that suppose to mean ? Dark for what !? Just being racist there.

— Sameh (@SamehSibai) August 1, 2020
what was the "a bit too dark" sentence about? too dark for what? although yes it's about the suit being sand coloured, he purposefully made the tweet ambiguous to antagonise people. don't be dense

— shaolin soul (@ressiej_) August 1, 2020
Keep Ian Wrights name out your mouth you racist prick

— Tom Usher (@tom_usher_) August 1, 2020
Hope the bbc sack you you racist

— Frankie Hobbs (@Frankie_Hobbs) August 1, 2020
Worded wrong maybe but with a photo you can clearly see he was talking about the suit pic.twitter.com/fXV9tFtPfB

— sj (@Footie888) August 1, 2020
Regardless of the intentions behind this tweet, why would you point this out and lay it out with that set of words..anyone could see this was going to cause an issue.
Banter is not your strong suit @Lord_Sugar

— the peixest of all (@Peixuni) August 2, 2020
I mean you could've worded this a lot better or included a picture at least pic.twitter.com/vauM55zRez

— Gianni (@thfcgianni) August 1, 2020
This is incredibly misjudged. And if I'm honest, it's out of order. I used to look up to you.

— Lee Norsworthy (@Nozza_90) August 1, 2020
It's a weird one. I don't think Lord Sugar is dumb enough to be openly or even suggestively racist on Twitter after the last time, but why even say that Ian Wright's suit would be too "dark" to wear on the beach? Would he have cracked the same joke if Gary Lineker had been wearing it?
Remember this Tweet from 2018?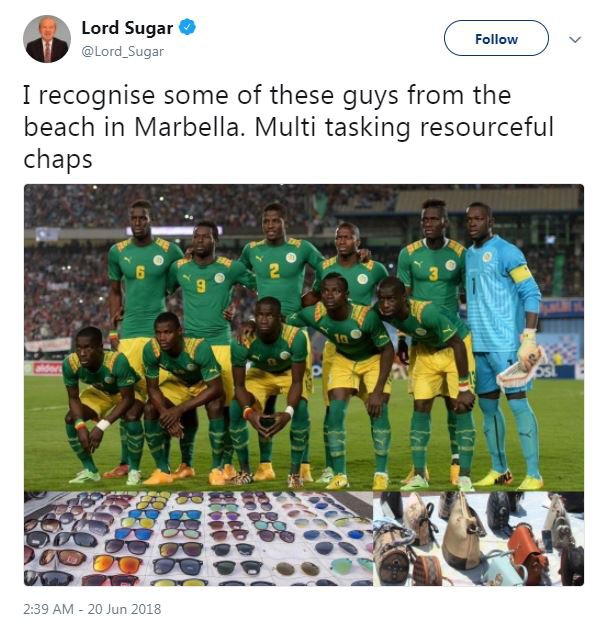 Luckily for Sugar he's too rich and powerful to be 'cancelled', but he should probably start thinking before Tweets. Or at least not drinking before he Tweets.
For the time Lord Sugar said people with non-binary pronouns should be shipped to Mongolia, click HERE.