Leonardo DiCaprio has done some crazy things in his life time. He's made out with Rihanna, partied with models and he even finally won an Oscar. But Leo's most recent project seems pretty darn extreme, even by his standards.
Featured Image VIA
This week at the White House's South by South Lawn (SXSL) festival of ideas, the actor was in a panel discussion with Barack Obama and Dr. Katherine Hayhoe (what a name), a climate scientist. During the talk, Katherine joked that we need to work harder to look after our planet and prevent climate change, as Elon Musk's idea to move to Mars just isn't realistic. She said:
As long as we haven't signed up for the trip to Mars—I don't want to know if anyone has—I think you're crazy.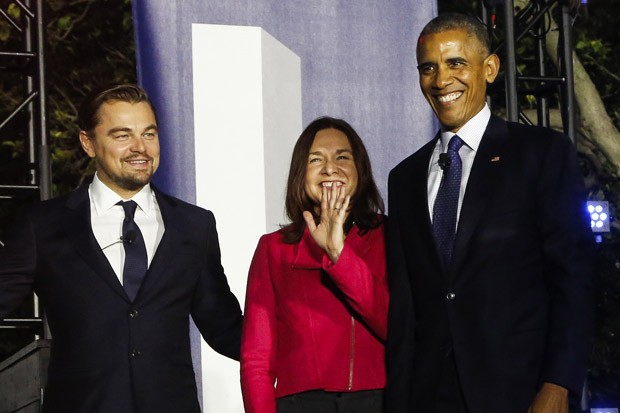 Rather than laugh along with the rest of the group, Leo simply replied "I did." So it looks like Leo has become one of the first people to sign up to Elon's project, despite being warned that anyone who does so must be prepared to die. Although he could just be joking. Then again, Leo does love taking risks, so I guess we shouldn't be surprised that he'd be up to the challenge.
I'm guessing Leo would still rather stick with plan A though – that is, trying to save the planet before it's too late. He's making such an effort to get this message out there that he's even got a documentary coming out this year on climate change called 'Before the Flood'. You can find out more about it HERE.